Table of Contents

Payroll management is laborious for businesses in any industry. But for those in the construction industry, it becomes an even more complex challenge.
The dynamic nature of construction work, with its fluctuating workforce, varying pay rates, and stringent compliance requirements, adds layers of intricacy to the task. In such an environment, the margin for error is slim, and the consequences of payroll mistakes can be both costly and damaging.
So, here are some curated payroll management software exclusively for construction companies.

11 Top-Tier Payroll Software For Construction Companies In India
Are you finding it challenging to manage the payroll of your construction company? Then check out these 11 software dedicated to easing all things HR and payroll;
1. factoHR
One of the best payroll software available on the market, factoHR tops our list of construction payroll solutions. From robust features to ease of use, this HR platform is an amalgamation of everything you could ever seek from a payroll solution.
Besides offering general features like basic salary calculations and tax compliance, factoHR provides a unique self-service portal. This makes it appropriate for construction companies with a diverse workforce. It also acts as a single-point solution that addresses every aspect of payroll management – leave and attendance tracking, audit trail, and much more. Perfectly tailored to meet the unique payroll needs of businesses in the construction industry, factoHR is a must-have.
Features
| | |
| --- | --- |
| Formula-based Calculation and Process Customization | Plug-n-Play Integration and Validation Engine to ensure maximum accuracy. |
| Encryption at rest, Audit Trail, and Fine Access to guarantee maximum security. | Auto Arrear Calculation to assure simplified revisions. |
| Performance-linked Payroll Solutions to ensure efficient performance tracking. | Custom Report Builder to foster data-driven decision-making. |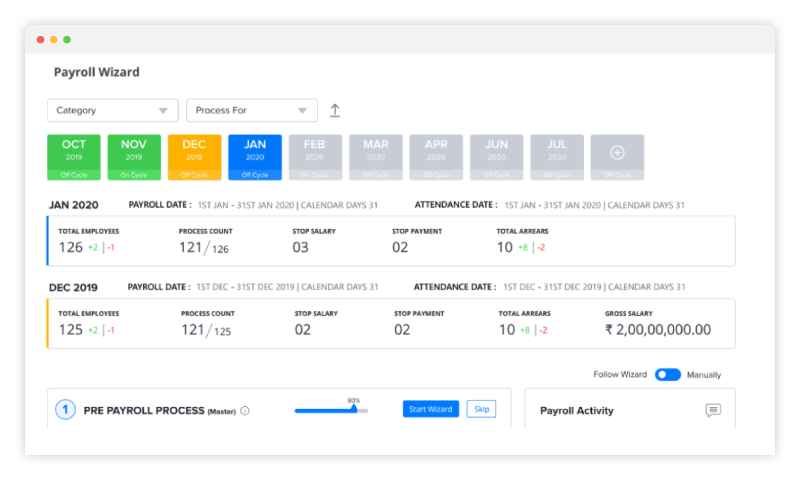 Advantages of Using factoHR
A simple and intuitive user interface with clear navigation makes the software easy to use.
factoHR also offers many other valuable solutions besides payroll management, such as recruitment, learning management, etc.
It is accurate, secure, and highly adaptable – making it an incredible choice for businesses belonging to any industry.
For the pricing, factoHR follows a simplistic yet flexible approach. You can choose from four distinct plans – Essential, Advance Velocity, Bolster, and Performer. All these plans are customisable so that you can add extra features at your comfort.
What People Say About Us


2. ADP
ADP stands as a paragon of excellence in payroll management. With a history steeped in delivering cutting-edge payroll solutions, this software has cemented its reputation as a trusted ally, especially for the construction sector.
ADP is meticulously designed to streamline payroll processes, ensure compliance, and improve the overall efficiency of managing construction labour. It's a robust and flexible solution that caters to the distinctive needs of construction companies, making it a go-to choice for managing the complex world of construction payroll.
Features
Simplified payroll management
Job costing integration
Time and attendance tracking
Tax compliance
Custom reporting
3. Workyard
Workyard is a payroll software designed with the unique needs of the construction industry in mind. It is renowned for workforce tracking, certified payroll reports for government contracts, and mobile time tracking for employees.
When it comes to simplifying payroll management, Workyard is a standout solution. It offers a holistic remedy that simplifies every facet of payroll and workforce management for construction companies, making it a go-to choice for those who want to streamline their operations.
Features
Certified payroll reporting
Construction workforce tracking
Subcontractor management
Expense management
Mobile time-tracking
4. Foundation Software
Foundation Software is more than just a payroll tool; it's a holistic construction management solution. It simplifies payroll management, enhances compliance, and offers features designed to meet the demanding needs of construction firms.
Its prowess lies in seamlessly integrating various aspects of construction accounting, project management, and payroll, thereby providing a comprehensive platform for construction companies. With a steadfast focus on the financial and payroll intricacies unique to the construction industry, Foundation Software has become a trusted name in this sector.
Features
Construction-specific accounting
Job costing integration
Project management integration
Union reporting
Financial analysis

5. Payroll4Construction
In a field where accurate and compliant payroll is paramount, Payroll4Construction stands out as a reliable aide. It simplifies the complex process of managing construction-specific payroll, ensuring companies can focus better on their projects.
Payroll4Construction's hallmark feature is its understanding of the complexities of the construction industry. It is built to simplify the intricate process of certified payroll reporting for government contracts. In addition to these specialised features, Payroll4Construction offers a user-friendly interface, robust time and attendance tracking, and tax compliance capabilities.
Features
Multi-worker payroll
Custom reporting
Time and attendance tracking
Garnishment management
Tax compliance
6. PENTA
PENTA is a construction management software suite designed to meet the complex payroll needs of a construction company. It offers a comprehensive solution that encompasses accounting, project management, service management, and payroll into a single integrated system.
One of the standout features of PENTA is its unified platform. It also excels in job cost accounting and service management. Moreover, PENTA also offers robust analytics and reporting tools that allow construction companies to gain insights into labour costs, project profitability, and financial performance.
Features
Unified platform
Job costing accounting
Contract management
Inventory management
Advanced reporting
7. QuickBooks Payroll
Popular for its user-friendly interface, QuickBooks Payroll, a part of the QuickBooks suite of accounting software, is a popular choice among construction companies. The software offers features that cater to various needs in the construction industry.
About 10%-30% of businesses misclassify their employees as independent contractors. But this software seamlessly handles that by individually managing payrolls of full-time employees, contractors, temporary workers, and union employees. It also simplifies tax compliance by automatically calculating and deducting payroll taxes. In addition, it seamlessly integrates with QuickBooks accounting software, making it an attractive option for small to medium-sized construction businesses.
Features
Custom reporting
Multi-worker payroll
Tax compliance
Time and attendance tracking
Mobile access

8. ConstructionPayroll
ConstructionPayroll is a specialised software solution designed exclusively for the construction industry. It is a complete end-to-end solution that ensures accuracy, compliance, and efficiency in handling payroll, regardless of the complexity involved.
From tracking employee hours to generating certified payroll reports, ConstructionPayroll does it all. It also seamlessly accommodates diverse workforce needs, further simplifying payroll management. In addition to that, ConstructionPayroll includes garnishment management, tax compliance, mobile accessibility, and other important features.
Features
End-to-end payroll
Custom reporting
Tax compliance
Garnishment management
Mobile accessibility
9. Paycheck Flex
Paycheck Flex is a versatile tool that adapts to a wide range of construction payroll scenarios. One of the key strengths of this software is its ability to manage payroll for diverse workforces, including full-time employees, temporary workers, subcontractors, and union employees.
Paycheck Flex simplifies the often intricate task of managing certified payroll reporting for government contracts. Tax compliance is another area where it shines. Moreover, it streamlines time and attendance tracking, ensuring precise payroll calculations.
Features
Versatile payroll management
Tax compliance
Certified payroll reporting
Union reporting
User-friendly interface
10. CEM Business Solutions
For construction companies seeking to streamline their operations and improve efficiency, CEM Business Solutions could prove to be a valuable partner. This software suite is known for integrating multiple aspects of construction management, making it easier for businesses to manage their payroll.
CEM excels in job cost accounting. It also provides robust analytics and reporting tools that allow construction companies to gain insights into labour costs, project profitability, and financial performance. All this makes it particularly well-suited for construction companies involved in complex projects with diverse labour requirements.
Features
Integrated construction management
Service management
Job cost accounting
Contract management
Advanced reporting

11. Enspire HR
Enspire HR is a robust HR and payroll management solution designed for the specific needs of construction companies. It stands out as a comprehensive and adaptable software solution for the workforce challenges involved in the construction industry.
This software offers a range of features tailored to construction-specific payroll management, from job costing integration to certified payroll reporting. It is built to simplify the intricacies of construction payroll, ensuring accuracy and compliance in a constantly evolving industry.
Features
Comprehensive payroll management
Certified payroll reporting
Time and attendance tracking
Tax compliance
User-friendly interface
Conclusion
The payroll management needs of a construction company differ from the rest in many ways. Thus, going for a tool that offers tailored solutions is crucial.
In this article, we listed 11 of the best payroll software exclusively designed for construction companies. So, don't wait anymore – choose the one that best fits your unique needs and manage payrolls like a breeze.