Table of Contents

One of the important components of human resource management is payroll processing. Since it deals with money, it is highly essential to be error-free and accurate. Manual processing of payroll is accompanied by a lot of errors and inaccuracies, especially when the number of employees is huge. Here comes the role of payroll software.
With complete automation, it helps in the meticulous maintenance of payroll. It not only ensures timely payments but also incorporates all deductions, increments, etc. automatically. A study by the Hackett Group states that companies that adopted automated payroll processing witnessed 75% reduction in errors and 25% time savings. In this blog, we take you through the top 10 payroll software that can assist you in efficient payroll management.

How to choose a payroll software for your company?
If you wish to buy payroll software for your organisation, you should consider the following points:
Requirements
First, analyse the purpose for which you need the software. You should understand the features of the software to find out if it is suitable for your requirements.
Features
Look for software with a lot of features that make your payroll process easy to manage. Features like integration with other tools, mobile readiness, etc., are some you should look for.
Budget
Your budget plays an important role in the selection of software. Check the allocation made and choose a software accordingly.
Reporting
One feature that is most important is reporting. Automation that helps in easy reporting in a centralised dashboard assists in hassle-free decision-making.
Ease of use
The software you choose should be easy to use, without much dependence on the provider for support.
Reviews
Before you finalise your decision, make sure to go through the reviews provided by previous users of the software. This will help you analyse its pros and cons.

List of Best 10 Payroll Software in Hyderabad
Here is the list of 10 best payroll software in Hyderabad that you could use in your organisation:
1. factoHR
factoHR is a comprehensive HR software that takes care of all HR-related functionalities. It is easy to use and has many attractive features. The factoHR payroll software in Hyderabad streamlines and integrates the whole process.
The software offers easy access to the employee's self-service portal, wherein they can view their payments, deductions, tax, and other information in one place. The platform is formula-driven and has the flexibility to include unlimited earning and deduction components.
Features
ISO-accredited and SOC2-certified data centers to maintain a secure platform
Wizard-driven salary process to enable inclusion of every payroll aspect
Integrated single-point payroll system that saves processing time by half
Keeps track of retro changes and auto-calculates statutory and other payments
Provides ready-to-file reports and forms by taking care of all compliance requirements
Gamification of employee performance by linking goals with KPI
Easy download of past year's payslips in PDF format
Offers payslips in vernacular language to remove linguistic barriers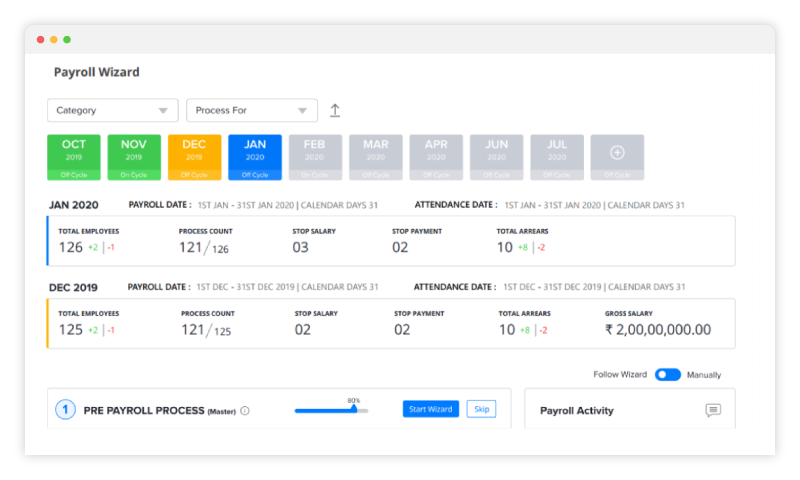 Benefits
High level of security with encryption and fine access control
Plug-and-play integration with minimum human interference
Complete integration with smooth user experience with all internal modules
Formula-based calculations and customisation offer complete flexibility with scalability
What People Say About Us

Pricing
factoHR offers convenient pricing through its pricing plans. It offers Essential, Advance Velocity, Bolster and Performer plans with various attractive features. You could also include add-on features such as timesheet tracking, self onboarding, ticketing, face recognition, etc.

2. Personio
To help maintain accurate and timely payroll, Personio offers payroll management software. It is an all-in-one solution for all your HR needs, from recruitment to offboarding. All data regarding employee salary is maintained with a high level of accuracy. Any changes are informed automatically to the employees, who can access the portal to check for corrections.
Features
To help maintain accurate and timely payroll, Personio offers payroll management software. It is an all-in-one solution for all your HR needs, from recruitment to offboarding. All data regarding employee salary is maintained with a high level of accuracy. Any changes are informed automatically to the employees, who can access the portal to check for corrections.
Centralised storage for all payroll-related data
Connects instantly with other major payroll apps
Self-service portal for employees to access
Monthly reports with a complete breakdown of payroll figures
High level of security through complete encryption of data
3. BambooHR
BambooHR helps organisations manage payroll and employee enrollment together in its platform. It allows tracking of hours worked and time-off to efficiently manage payroll processing.
It offers a single source of data and comprehensive reporting for easy and accurate payroll processing. Switching to BambooHR from other platforms is made easy with this highly flexible platform.
Features
Avoids double data entry with a single source for time tracking and benefits.
Takes care of all federal, state, and local taxes to avoid miscalculations.
Offers incredible standardised reports that help in informed decision-making.
Employee self-service portal for better employee experience.
It is compliant with SOC2 and offers a three-tier backup redundancy plan, advanced data encryption, and continuous monitoring for total security.
4. SavvyHRMS
SavvyHRMS provides 100% accurate salary calculations by completely streamlining the process. With total automation, payroll management is made easy and computation errors are minimised.
The payroll solution of SavvyHRMS is innovative, intelligent, and integrated. It ensures timely salary processing and hassle-free month-end processing. It is suitable for small, medium, and large-sized organisations.
Features
Wide range of functions, such as representative attendance, leave tracking, payslip creation, PF reports, and ESI reports
Can maintain records of thousands of employees
Suitable for all types of industries
Facilitated on a cloud server with limitless access anytime you need
Customisable as per client requirements
Efficient reinforcement system structure

5. SmartHRMS
SmartHRMS is a highly efficient payroll software in Hyderabad that enables companies to process salaries on time without any flaw. The software ensures that the entire payroll process is secure, streamlined, and accurate.
Payroll platform by SmartHRMS offers many incredible features that make it highly dependable. Reports are generated in real time, making it extremely useful for decision-making.
Features
Provision for marking temporary employees whose payroll will not be processed
Allows updating loss of pay for the supplementary period
Payroll reminders can be set for any special request for remuneration
Auto deduction of employee loans
Flexible to add any formulas for new and existing payroll
Auto update of increment for employees
6. Enspire HR
Enspire HR is an automated platform for all your HR needs. It allows customisation of payroll processes by tracking every adjustment. It works on formula-driven algorithms to configure salary structures of various kinds of industries.
Enspire HR also helps maintain tax-related functionalities through the cloud-based computing system. Another interesting feature of the software is the integration it offers with other software.
Features
Easy process of multi-country payroll with multi-currency capability
Offres multi-utility reports to track payouts on a monthly basis
Report customisation is facilitated
Payslips can be distributed on mobile app, emails, or prints as desired
Allows employee access to database to track and manage payslips
Automates compliance payments like TDS, ESI, and PF
7. OfficeNet
OfficeNet makes the complex payroll process simpler with its advanced payroll management software. It enables adherence to statutory payroll compliance requirements. This cloud software can handle all complex calculations and maintain timely payment of salaries.
With 100% accuracy, the software ensures improvement in productivity. The statutory deductions are automatically updated in the software. The software allows hassle-free integration with attendance and leave management, which are complementary to payroll processing.
Features
Automated inputs for reimbursements, loans, advances, and customised payslips
Single-click processing of salaries after deductions
Payroll reconciliations tools to verify and maintain accuracy
Generates mandatory reports without manual data entry
Capable of providing output in Excel

8. Fingercheck
Fingercheck payroll is an excellent payroll solution exclusively for small businesses. It makes payroll management easy and affordable. With complete automation, the software does away with manual data entry and cumbersome calculations that may lead to errors.
The software allows for pay-on-demand, wherein employees need not wait for payday to access their wages. It offers a high level of flexibility with innumerable features.
Features
Error-free management of payroll with compliance to tax codes at each level
Round-the-clock support with AI-assisted technology
Payroll processing across state lines within the same pay cycle
Next day pay option with flexibility around deadlines for processing
Load wages to payroll debit cards to help unbanked employees
Payroll analytics to instantly fix any discrepancies
Ensures safety of employee data with SOC2 compliance
9. Gusto
Gusto helps firms manage payroll processes with just a few clicks. It helps save a lot of time with bi-weekly payroll runs. The platform facilitates easy sign-in without any cumbersome process, which lets employees and employers access the accounts effortlessly.
The software offers excellent flexibility and allows easy shifting from other software too. It is best suited for new businesses and start-ups. The software offers a wide variety of plans suited to various business needs.
Features
Automatic calculation and syncing of team's hours, PTO, and holidays with payroll
Provides instant alerts on software integration
Makes easy registration of payroll taxes
Offers insights through incredible reporting tools
Runs payroll as many times as needed without any extra charge
Auto-filing of taxes with compliance to specific state requirements
10. Rippling
Rippling is a powerful payroll management software that is instant and can run in 90 seconds. It guarantees 100% error-free processing with timely payment of salaries.
Rippling offers a dedicated mobile app, which is accessible to all employees. It syncs all HR data with payroll for efficient processing of payments.
Features
Helps comply with tax regulations
Offers a library of pre-built reports that helps visualise reports
Single integrated system to manage every tool in the payroll management software
Offers more than 500 integrations for smooth functioning
Customise data access and visibility by department or position
Easy reconciliation by syncing payroll and expenses with the general ledger
Facilitates global payroll processing with a few clicks

Conclusion
Payroll is an important component of employee management; hence, it is imperative that it is processed accurately. Payroll software in Hyderabad assists organisations to this end. In this blog, we have listed the top 10 payroll software in Hyderabad for you by exploring their features and functionalities.
Make sure you delve deep into these software functionalities based on your requirements to choose the best one for your organisation. Remember, timely and error-free payroll management enables you to improve the productivity of your staff.
FAQs
1. What makes a good payroll system?
A good payroll system should be highly functional, easy to use, secure, and offer instant support.
2. Why should companies in Hyderabad choose payroll software?
Error-free maintenance of payroll is a tedious task. A payroll system makes the task easy and minimises errors so that payroll processing is accurate and on time.
3. What is the main function of a payroll solution?
The main function of a payroll solution is to help HR departments manage payments to employees digitally. It simplifies the process and helps both the employees and employers.