Table of Contents

In the bustling business landscape of Pune, managing payroll efficiently is a top priority for any companies, ranging from startups to established enterprises. With that being said, the demand for effective payroll management has never been higher. To meet this demand and streamline the extreme complexities of payroll processing, many businesses in Pune are turning to payroll software. In this article, we will mention the 10 payroll software available in Pune.
Unraveling the Necessity of Digital Payroll Software in Pune
Before we begin our journey to discover the best payroll software in Pune, it's essential to grasp the fundamentals of what software offers. Its a digital tool carefully crafted to automate the crucial processes involved in calculating and distributing employee salaries, taxes, and many other financial benefits. The software's main objective is to save the organization's time, minimize errors in payroll, ensure strict compliance with tax and labor laws.

Why Payroll Software Matters for Businesses in Pune
Payroll software serves as the cornerstone of modern HR and financial management, bringing a plethora of benefits to businesses of all sizes, let's explore in depth why it's matters:
1. Enhanced Accuracy
The software operates with a level of precision that is virtually impossible to achieve through manual calculations. By automating payroll processes, it drastically reduces the risk of human errors in payroll calculations. This accuracy is paramount as it guarantees that all the employees receive their due salaries without delays. Employees can rely on the system to compute their salaries correctly, fostering trust and satisfaction within the workforce.
2. Employee Self-Service
In the age of digital transformation, employees crave convenience and accessibility. Many modern solution offer employee self-service portals. These portals empower employees to access their payroll information with ease. They can view their payslips, check their tax deductions, and even make adjustments to their personal details when necessary. This self-service capability not only reduces the administrative burden on HR professionals but also enhances the overall employee experience, promoting engagement and transparency.
3. Data Security
Handling sensitive employee information, such as social security numbers and bank details, requires utmost security. The software comes equipped with robust security features, including encryption and access controls, to safeguard this confidential data. These features make sure that employee data is protected from data breaches.
4. Scalability
As businesses grow, their payroll requirements evolve. The software is scalable, meaning it can adapt to accommodate the changing needs of an organization. Whether your business expands to new locations or hires more employees, the software can seamlessly scale up to handle increased wage complexities.
5. Reporting and Analytics
Payroll software offers reporting and analytics capabilities that provide valuable data into payroll expenses, tax liabilities, and labor costs. These data can help in making strategic decision-making, which enables businesses to optimize their financial resources and plan for future growth.
6. Integration
Payroll software can integrate with other essential business tools, such as accounting software, time and attendance system, and human resource management software. This integration streamlines data flow between different departments, reducing manual data entry and ensuring data consistency.
7. Record-Keeping
Accurate record-keeping is crucial for auditing, compliance, and historical reference. The software maintains comprehensive records of past salary cycles, tax filings, and employee payment history. This historical data is easily accessible, simplifying audits and compliance checks.
8. Employee Benefits Management
Some software solutions extend their capabilities to manage employee benefits, such as health insurance and retirement plans. This integration ensures that benefits are accurately accounted for in employee wage, simplifying benefits administration.
9. Global Compatibility
For businesses with international operations or expatriate employees, the software can handle complex payroll requirements that vary from country to country. This ensures compliance with local tax laws and regulations across borders.
10. Customer Support
Reputable software providers offer customer support to assist with setup, troubleshooting, and any queries that may arise. This support ensures a smooth implementation process and ongoing assistance when needed.
11. Continuous Updates
Tax laws and regulations are subject to change. The software providers routinely update their systems to reflect these changes, relieving businesses of the responsibility of tracking and implementing these updates themselves.

List of Top 10 Payroll Software in Pune
Let's delve into the vibrant world of payroll software available in Pune, each offering a unique set of features to simplify and supercharge your payroll management:
1. factoHR
Meet factoHR, the go-to choice for small and medium-sized businesses in Pune. With a user-friendly interface, factoHR makes payroll management a breeze. It does the heavy lifting with automated tax calculations, ensuring every employee's paycheck is spot on. Say goodbye to compliance headaches too, as it seamlessly handles all those intricate tax regulations. Plus, it enables the convenience of direct deposits, making payday a joy for both employers and employees.
Features
| | |
| --- | --- |
| View and download payslips and check YTD income with graphs and monthly breakups through ESS portal. | Retro changes like unclaimed overtime, missed punch, salary revision, unapproved leave or holiday in case of attendance or any compensations can be rectified or claimed. |
| A formula driven rule engine to configure salary with multiple salary components. | Easy payroll processing with its wizard-driven approach. |
| Off-cycle payroll process can make all necessary payments that aren't included in the regular payroll cycle. | Various salary reports can be built using the custom report builder option by selecting the relevant data source. |
| Process salary with multiple groups according to employees' pay cycle. | Generate all kinds of income tax reports and forms. |
| Allows auto EMI deduction, and employees can request various types of loans. | Off-cycle salary process feature to make all necessary payments that aren't part of regular calculations. |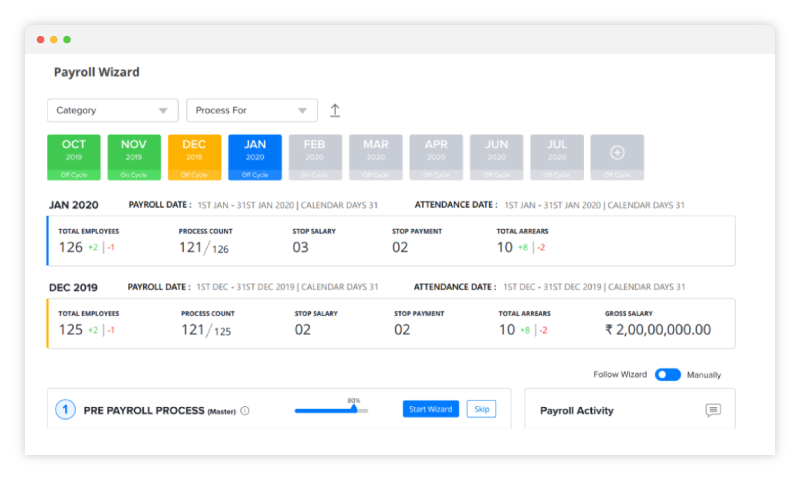 Benefits
Its top-level security protects critical employee data with encryption at rest, audit trail and fine access control.
Plug-and-play integration minimizes human interventions and ensures the highest accuracy in data output through its validation engine.
The system offers tailored flexibility through formula-driven calculations, customizable processes, and the ability to create an unlimited number of components as per your specific requirements.
Users enjoy a seamless experience, thanks to the software's integration with internal modules such as core HR, attendance, leave, and expense management, as well as compatibility with external systems like ERPs and accounting applications.
What People Say About Us


2. Humi
Pune's businesses trust Humi to harmonize their finances and payroll. This software shines with its exceptional integration capabilities, seamlessly syncing with accounting software. Imagine effortlessly managing your financial books while ensuring your employees get paid accurately and on time. Humi is the bridge that connects the worlds of finance and HR.
Features
Integrated Wage
Compliance Management
Automatic Calculations
Employee Self-service
Hourly Pay Management
Unlimited Pay Runs
Records and Reporting
3. Fingercheck
Fingercheck isn't just about payroll; it's a comprehensive HR and payroll powerhouse. Pune's businesses love it for its robust features, including attendance management to keep tabs on who's in and who's out, leave tracking to ensure everyone gets their well-deserved breaks, and expense management to keep company spending in check. Fingercheck goes beyond payroll—it empowers HR professionals to excel.
Features
Automated Tax Calculations
Compliance Reporting
Employee Self-Service Portal
Customizable Payslips
Expense Management
Full and Final Settlement
Reports
4. Personio
Personio offers the perfect blend of scalability and simplicity. Its intuitive interface and extensive customization options make it a favorite among Pune businesses. As your organization grows, Personio scales effortlessly, adapting to your changing needs. No need to stress; Personio has got your back.
Features
Salary Processing
Statutory Reports
Arrears Calculations
Loans & Advance Management
Income Tax Management
Full & Final Settlement

5. Gizmosys Solutions
In Pune, Gizmosys Solutions is the versatile maestro of payroll software, designed to tackle even the most complex requirements. It's like having a Swiss Army knife for payroll. Supporting multiple salary structures and equipped with statutory compliance tools, Gizmosys Solutions is the Platform Pune businesses turn to when they need versatility and reliability.
Features
Automated Check-ins
Automated Reminders
Claims and Advances
Payment and Compliance Advisory
Expense Management
6. Paychex
For Pune businesses considering outsourcing their payroll, Paychex is the trusted partner. It specializes in outsourcing services, handling the nitty-gritty details of salary processing with finesse. This frees up your valuable time and resources, allowing you to focus on your core business operations.
Features
Employee Records
Employee History
Salary Administration
Statutory Compliance
Loan Management
7. TrickyHR
TrickyHR boasts the flexibility and adaptability that Pune's diverse industries demand. No matter your industry's unique payroll needs, TrickyHR can accommodate them. It's like having a payroll software that speaks the language of your business.
Features
Online Transaction
Loan and Advance Management
Reimbursement Management & Bank Transfer Details
Arrears Calculation and Other Payment
PF/ ESIS /PT/ Income Tax Management Reports

8. AddettoHR
AddettoHR caters to startups and small businesses in Pune with its free payroll software option. Don't let the word "free" fool you; it covers all your basic needs while being budget-friendly. It's a smart choice for businesses looking to manage employee wage without breaking the bank.
Features
Integrated Pre-tax Benefits
Paperless Paychecks
Easy Cancellations
Contractor Payments
Hourly and Salaried Employees
9. Samplex24
Samplex24 takes payroll processing to the cloud, offering a hassle-free experience for Pune businesses. The cloud-based approach means you can manage from anywhere, anytime. Plus, it handles statutory compliance with ease, ensuring your business stays on the right side of the law.
Features
Payment in Local Currency
Automated Tax Filling
Expense Management
Dedicated Mobile App
Analytics
10. HR Pearls
HR Pearls is the trusted companion of Pune businesses, offering a range of features, from attendance management to precise salary calculations. When you need reliability and efficiency in your processes, HR Pearls is there to deliver.
Features
Salary Calculations
Full & Final Settlement
Tax Declarations or Investment Proofs
Payslips and Reimbursement Slips
Bank Transfer Sheet
Salary Register & Various Reports

Conclusion
In a city as dynamic as Pune, choosing the right payroll software is essential. Each of these top 10 payroll software solutions brings something special to the table, catering to the diverse needs of Pune's thriving business community. We hope this article help you in choose the best software for your organization, increasing overall productivity.