7 Golden Rules for Building an HR Team for Your Small Business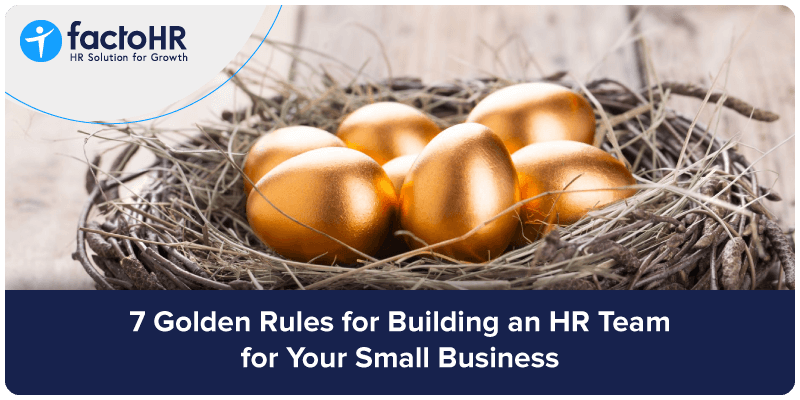 Your small business will not stay small as you are working very hard to make it big. While you focus on delivering what you set out to do, you will want to delegate some of the administrative responsibilities to qualified people. Human resource management and HR operations come under such responsibilities which also include aspects like ensuring compliance with the local laws, and keeping your employees motivated. Effective HR operations need significant time and effort which, as a small business owner, you may find hard to devote. The better option would be to delegate this function to a specialist professional and focus on core delivery.
Benefits of HR Team for a Small Business
Apart from ensuring compliance and managing teams, there are many other ways in which HR teams help small organisations
Carrying out recruitments as you grow your business
Onboarding of new employees, and ensuring that they are aligned with the organisation's objectives
Building performance appraisal systems for effective monitoring of employee performance
Boosting team morale, and keeping everyone on the same page (in the case of distributed teams)
Setting up payroll systems and timely disbursement of salaries.

7 Rules for Building an HR Team
If you are ready to start building your own HR team here are 7 golden rules that you must follow.
Rule #1: Define HR Goals
You need to have clear goals for the HR department that aligns with your organisational goals and culture. Some of the goals the HR department should have are:
Ensure good record keeping and documentation of all employees
Streamline hiring and recruitment processes
Conduct and facilitate all mandatory training for employees
Implement accurate payroll processing to ensure prompt payout of salaries and benefits
Conduct and facilitate performance appraisal for all staff
Rule#2: Decide HR Strategy
Your HR strategy is what makes you realise your HR goals and in turn the larger organisational goals. HR strategy must include decisions about:
HR department size – should you start with just one professional and grow it with the organisation or should you have more to keep the focus on recruitment and training? This depends entirely on how fast your organisation is set to grow.
HRMS software – should you invest in a proper HRMS or would you like to start slow and go with a manual system using spreadsheets?
Rule#3: Plan for Implementation of your Strategy
Once you have narrowed your strategy, it is time to make a plan to implement it and ensure future changes are baked into the plan. The plan should have enough flexibility to adapt to unforeseen changes as the organisation adapts to new challenges and any changes to original goals or strategy.
This is a good time to get your first HR professional onboard. This will be a key hire, especially so if you plan to have just one HR professional to begin with. So, make sure you hire the right person for this role. The valuable experience of the HR person will come in handy while planning the details and validating the strategy. Make sure you delegate the execution of the plan to the HR professional while providing oversight and required help.
This is also a good time to set up key performance indicators (KPIs) for the HR department and procedures around how to measure and monitor those.

Rule#4: Create an Organisation Structure
Structure brings accountability and clarity on the function and delivery of each department and individual. If you are more than 10 or 15 employees in all, it is time to get a bit organised and define the structure in which you can operate efficiently. This will also give the HR department clarity about the reporting structure and prepare them for inter-departmental issues that may crop up, as they usually do.
Rule#5: Invest in a good HRMS Software
It is always a good idea to invest in HRMS that will help automate most of the HR operations. Sometimes, if the company is too small, you can skip hiring HR professionals if you have an HRMS in place. If not immediately, do have a plan in place to invest in such software when the number of employees increases.Please check factoHRs HR software to understand how the features and functionality our software offers can automate HR operations and bring efficiency.
Rule#6: Pay Special Attention to Compliance of Local Laws and regulations
One of the golden rules that is never to be overlooked is that you have to operate on the right side of the law. It is important to familiarise yourself with regulations around the health and safety of your employees. Every government has laws that protect both employees and employers. However, the laid out labour laws of the land are very important to know and need to be adhered to. Your HR professional or the department should be fully aware of these laws. They should maintain auditable records of all employee-related information. Most modern HRMS systems also provide customisation to align with local laws.
Rule#7: Set up Ground Rules and Make Sure Everyone in Your Company Knows Them
While the local laws are mandatorily applicable, it is a good practice to lay down rules regarding employee engagement in consultation with the HR department. The HR team will be responsible for ensuring that these rules are known to everyone in the organisation by making these a part of induction training for new hires. They are also responsible for conducting periodic awareness campaigns via online training followed by questionnaires.
These rules, practices and employee engagement events form the basis of, as well as enrich organisation culture. It is important for the founders and leadership team of the company to get this right so that you grow into a company where people want to work and build their careers. Hiring new talent as well as retention of talent becomes easier when you become a great place to work.
Create HR policies which will help the organisation in maintaining a harmonious environment. Here is a guide on some important policies every organisation should consider implementing.

Conclusion
The benefit of having a dedicated HR department is that most of the routine HR operations run like clockwork. Recruitment & hiring, payroll, employee leave management, etc. can be efficiently and effectively handled by the HR department. This will free up your time to focus on other important things.
When you, as an entrepreneur, start a business with just a handful of employees, it may not require a dedicated HR department or a professional. There is never a good time to have an HR department than when you notice that you are spending more time on HR operations than business development. Typically, organisations start looking at this aspect when they grow to a size of more than ten employees.
There are many cost-effective software solutions for HRMS in the market. Choose the right one and start early so that you protect your organisation from any compliance issues later. Here is a guide to understanding what a good HRMS system can do and how to go about selecting the right software.