6 HR Processes That Must Be Automated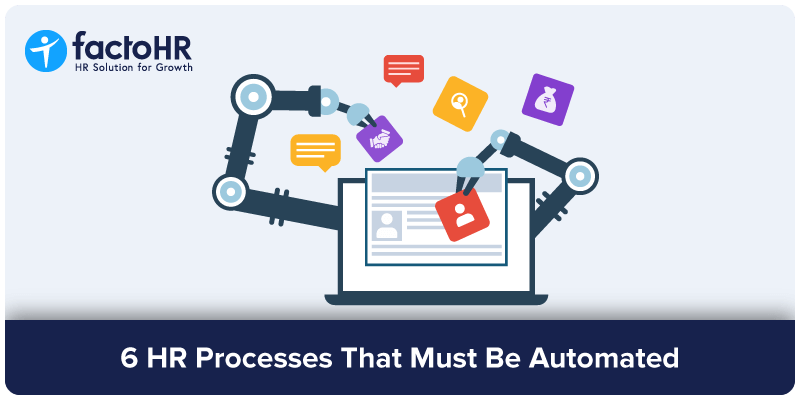 There are many HR processes that are laborious and simply sap your energy without adding much value. As an HR professional, given an opportunity, what processes would you like to see automated? What comes to your mind when you have to do tasks without applying any thought? Something that you have done a thousand times where except for a few changes in terms of the name and ID of the employee, everything else is exactly the same. Which tasks make you feel that they are repetitive and should be assigned to some machine rather than you wasting your time?
For many HR professionals, it seems like an endless list of things to do on a daily basis. From recruitment & onboarding to policy updates to communication to appraisal cycles, there is no dearth of work. However, some of the tasks involved in all of these processes involve rudimentary actions like simply copying data from one source to another. Such tasks are prime candidates for automation. HR professionals should ideally be working on applying their knowledge and experience to improve overall employee experience, ensuring adherence to labour laws, and contributing to business growth.

6 HR Processes that should be Automated
There are several HR processes that can be automated. Here we list some time-consuming and critical processes that should be automated in the order of a normal human resource management cycle.
1) Recruitment and Hiring
This process includes posting job openings, reviewing resumes, scheduling interviews, and sending offer letters. Automation benefits include:
Increased efficiency and speed in identifying and evaluating candidates' profiles from the database. This is especially helpful when a large number of applications are received for a single job posting.
An automated system using predefined criteria reduces, if not fully eliminates, the recruiter's bias in the hiring process.
Increased cost savings as automation can reduce the need for human resources staff to perform repetitive tasks.
Automation results in a streamlined and efficient application process. This greatly Improves the candidate experience.
Automated systems can provide metrics and valuable insights. This results in data-driven recruitment decisions while evaluating candidates.
2) Onboarding
This involves sending new hire paperwork, scheduling orientation, and setting up employee accounts. Benefits of automation using employee onboarding software include:
Efficiency and speed in completing new hire paperwork and background checks improve multifold. The system can quickly and accurately process and verify the information.
Accuracy, completeness and compliance are greatly improved when information and data gathering from the new hire is automated.
Cost and effort are saved as the HR staff need not perform manual verification of forms for completeness and correctness of data.
New hire experience is improved due to a more efficient and streamlined onboarding process.
The onboarding process will be consistent and standardized for all new hires as they receive the same information and training.
As the data gets directly stored in a centralised database, there is increased data security. Sensitive information will no longer be lying around on paper.
There is an improved ability to automatically track the progress of new hires through the onboarding process, and monitor compliance with company policies and procedures.

3) Time and Attendance Tracking
Offline applications for leave through a paper letter are time-consuming and inefficient, and the employee leaves data is unavailable when required. The letter requires approvals by managers and HR team. Automating this process including recording employee work hours, calculating overtime, and tracking time-off requests results in the following benefits:
Eliminating all the hassle of manual tracking methods using systems like touchless attendance solution increases accuracy and reliability in tracking employee hours and attendance.
Manual data entry and reconciliation of timesheets is effort-consuming. Automation improves efficiency and also results in cost savings.
Improved compliance with labor laws and regulations, as the system can ensure accurate tracking of overtime, breaks, and other legal requirements.
Increased visibility into employee attendance and productivity, as automation can provide real-time reports and analytics on employee work hours, leaves, and non-compliance to office timings.
Simplified payroll processing, as a result of automatically calculating and exporting employee work hours to payroll system.
Automation will provide the ability to track remote employees and monitor their attendance from anywhere, by using web-based or mobile-based systems.
Accountability of employees increases and reduces the burden of management as automated notifications are sent to employees directly for missing punches, late-coming and early leaving.
4) Performance Evaluations
When done manually and once a year, this is the toughest process for all involved. Setting goals at the beginning of the year, tracking progress, and conducting reviews end of the year are all part of this process. However, automating the performance evaluation process can bring several benefits, including a healthy change toward continuous feedback throughout the year.
Increased efficiency and accuracy in collecting and analyzing employee performance data as they are available within the system due to frequent updates over the entire period. There is no need to jog the memories or search for handwritten notes or old emails.
Like with any automation, there is cost saving in terms of reduced effort and need for HR staff to intervene in dispute resolution between managers and their direct reports. When there is data available and performance discussed continuously, there is a decreased chance of disagreements.
Consistency and standardization in the evaluation process see marked improvement. Certain goals can be pushed top down to all staff automatically without manual input. That results in all employees receiving the same evaluation criteria and that evaluations are completed in a timely manner.
Since all the information is documented both by a manager and the employee, there is increased transparency. Detailed information on employee performance can be retrieved, and allow employees and managers to track progress over time.
The system can facilitate real-time feedback, and allow for more frequent and regular feedback discussions. This greatly improves communication between employees and management resulting in a more open and trusted workplace.
Improved tracking and reporting capabilities, as the system can provide real-time data on employee performance, and help with budgeting and forecasting.
Improved objectivity and reduced bias in the evaluation process, as the system enables setting objective criteria to evaluate employee performance, rather than relying on human judgment and subjectivity of the reviewer.
You can also read: 6 Reasons Why Organizations Need HR Tools

5) Payroll and Compensation
Calculating and distributing paychecks, processing taxes, tracking employee compensation, etc. takes huge effort and is prone to errors when done manually. Automating the payroll and compensation process can bring several benefits, including:
The foremost benefit is increased efficiency and accuracy in calculating and distributing employee pay. The automated system can quickly and accurately process and verify information from various sources like work hours, leaves and variable pay.
Payroll data is very sensitive and not to be left lying around on paper. Using an automated system improves data security as it is stored and retrieved based on the role of the user with the right permissions.
Payroll automation is one of the most cost-saving exercises. The amount of time and effort spent by HR staff doing this manually every month is huge.
Improved compliance with regulations and laws, as the system can ensure that all required taxes are paid and confirmations are forwarded timely to respective government departments like income tax and provident fund.
Increased self-service options for employees improve their positive experience at the workplace. They can review their payslips at their convenience.
Transparency is improved too as the system can provide detailed information on pay and compensation, and allow employees to view their salary history.
Automation improves better reporting capabilities that result in and enables budget planning accurately.
Automated calculations including tax and other deductions reduce the risk of errors and ensure compliance with the laws.
6) Training and Development
Tracking employee training and development progress, and creating reports are the key tasks of this process. Automating can bring several benefits including:
Increased efficiency and scalability in delivering training and development programs, as the system can quickly and accurately deliver training materials and track progress.
Improved consistency and standardization in the training and development process, as the system can ensure that all employees receive the same training materials and track progress.
Increased self-service options for employees, as the system can provide access to training materials and allow employees to track their progress and complete training on their own schedule.
Improved transparency, as the system can provide detailed information on training and development options, and allow employees to view their training history.
Improved tracking and reporting capabilities, as the system can provide real-time data on employee training progress, and help with budgeting and forecasting.
Automated notifications and reminders for employees to complete their training, thus ensuring compliance with company policies and regulations.

Conclusion
Does your wish list too contain these processes? What additional processes or tasks did you think of? By automating any or all of these processes, companies can save time, reduce errors, and improve the overall efficiency of their HR department.