Workplace Bullying
What is Workplace Bullying?
Workplace bullying is defined as terrible behavior of an employee or a team towards another employee or team which intends to harm personal and professional safety. This can include discrimination, harassment, arrogance, hatred, or humiliation in the presence of other people and consists of the inappropriate use of power.
Bullying can be in different forms, such as destabilization, false accusations, undermining integrity, ignoring presence, passing rumours and offensive comments, blackmailing, etc.
Here's a case highlighting employee bullying at the workplace.
Jake joined an organization as a mobile application developer. He was dark-toned and introvert. But from the beginning, his team members always kept information from him, never involved him in group matters, made fun of his colour, and even questioned his capabilities. Due to this, he became afraid to give suggestions, and there was a significant downfall in his overall performance.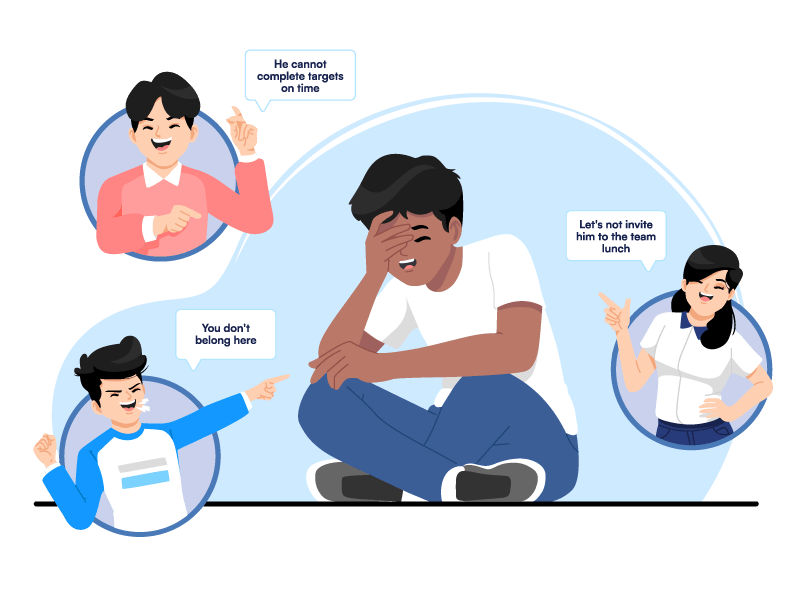 Frequently Asked Questions
What are the signs of workplace bullying?
Some of the common signs of bullying are mentioned below;
Being constantly pressurized
Criticism of work that feels personal
Being the subject of jokes or sarcasm
Feeling excluded from internal communication
Being excluded from social events
Receiving threats or being assaulted
What are the effects of workplace bullying?
The most prevalent effect of workplace bullying is stress. Therefore, it might lead to higher employee turnover, impact employee loyalty, and affect the company's growth. In addition, Bullying can lead to numerous mental health problems, leading to violent behavior in the workplace. Thus, keeping a neat and straightforward policy regarding harassment and workplace bullying is essential.
How to create an effective anti-bullying policy?
Workplace bullying is a more severe issue than expected, and it leaves a negative effect on a company's brand and reputation. To create an effective leave policy, the following things should be considered.
Explanation of what is bullying
Information on how a positive culture is built in your company
Consequences for bullying
Transparent process execution against bullying
Directions for the managers about bullying
How to report workplace bullying?
Workplace bullying can be done in various forms. For any reason, if anyone on the work premises is bullying you, you should inform your manager or the company's HR. As bullying leaves a negative impact, it should not be entertained on any work premises and should be executed strictly.