Table of Contents

Have you ever thought about how the top companies in Gujarat manage their people so well? Many HR are still stuck with old systems, so finding new ways to manage HR operations is the most important. Hence, Choosing the most suitable HRMS in your organization will lead your business to the next level by eliminating repetitive tasks and saving time for future plans. Leveraging the right HR software can make work smoother, keep things in order, and create a good working space, helps businesses to grow and succeed.

Key Features of HR Software in Gujarat
For effective and efficient company management, it's crucial to go through the key features you need in your organisation and select the most suitable HR software in Gujarat. So let's glimpse crucial features that will assist you in managing HR operations and spending time on other valuable tasks.
1. Recruitment and Hiring
Recruitment and hiring play an essential role in the organisation's achieving goals. Recruitment assists in hiring quality candidates who fit well within the existing culture. Recruitment and hiring helps organisations hire applicants with special knowledge.
2. Centralised Database
It stores all the data in a single place and provides precise access control. It includes the company's employees' information, government records, or any other data, everything is kept in this single central location.
3. Employee Self-Service Portal
Employee Self-Service Portal empowers employees to manage HR-related tasks independently. This comprehensive platform enables employees to access their personal information, submit time-off requests, clock in and out, regularize attendance, and access HR documents. ESS promotes efficiency and transparency and enhances Employee engagement, while reducing the administrative burden on HR departments.
4. Employee Onboarding
Employee onboarding streamlines the process of integrating new hires into an organization. It automates tasks such as paperwork completion, training and communication, ensuring a consistent and efficient onboarding experience. Human Resource Management System also helps in compliance management and provides valuable data for improving the onboarding process over time, ultimately enhancing employee engagement and productivity.
5. Offboarding Process
The offboarding process is an employee's departure from a company. It includes tasks such as returning company assets, conducting exit interviews, and finalising payroll and benefits. This digital tool ensures a smooth and compliant transition for departing employees while helping HR departments manage the process efficiently.

List of Best HR Software in Gujarat
In this technological advancement era, choosing the right Human resource management system is the most important in achieving consistent progress and enhancing productivity in your organisation. Incorporating suitable HRMS in your organization automates all repetitive tasks and provides valuable time.
1. factoHR
factoHR is a comprehensive solution that effortlessly automates and optimizes various HR tasks within organizations. This powerful platform enhances efficiency and productivity across your HR functions, making it an indispensable tool for modern businesses. factoHR empowers organisations of all sizes to efficiently manage their workforce, from recruitment and employee onboarding to performance management and employee offboarding processes.
This software provides a centralised platform for employee data management, tracking attendance, managing leave and effortless salary management. factoHR's intuitive dashboard provides a bird's view of your workforce metrics, incorporating data-driven decisions. factoHR also automates your business processes by creating multilevel workflows and helping you concentrate on strategic higher-value tasks.
Features
| | |
| --- | --- |
| Intuitive dashboard and smarter analytics for making informed decisions. | Set workflow-based approval and automate lower-level repetitive tasks. |
| Automate the employee onboarding process | Easily accessible document management to eliminate traditional storage services. |
| Centralized employee database for enhanced security. | Create offer letters and appraisal letters using dynamic templates. |
| Get an integrated payroll solution and effortlessly manage the salary of your employees. | Get real-time feedback from employees using surveys. |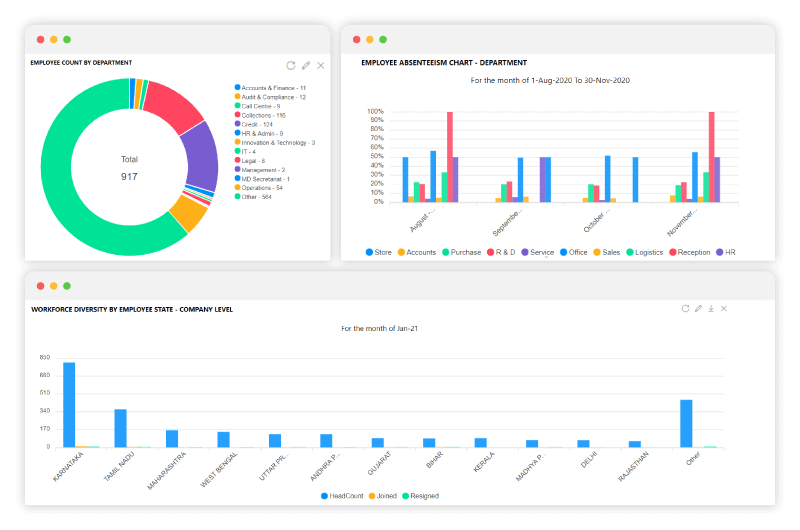 Benefits
It is essential to implement effective permission and audit trials at a granular level to ensure data remains secure and protected.
Wizard-driven configuration gives weekly access to information for quick implementation.
Flexibility and scalability make your organisation future-ready with a flexible core HR process.
Seamless integration with internal and external modules enhances the interconnectedness of automated software, resulting in improved employee productivity.
What People Say About Us

Pricing
factoHR provides flexibility to select from four plans designed to meet specific requirements of your organisation – Essential, Advance Velocity, Bolster, and Performer. The pricing for each option can be reviewed to identify the most suitable solution for your needs. Furthermore, there are some add-ons to enhance your chosen plan by incorporating various optional features, such as Face Recognition, Self Onboarding, and an efficient Ticketing System.

2. Gizmosys Solution
Gizmosys solution streamlines HR operations by automating all HR-related tasks. It is fit for all types of business, from startups to large enterprises. This solution offers multilingual capabilities and supports operations across various geographical locations. With the use of employee self-service, Gizmosys allows employees to access and update their information which enhances data accuracy. It simplifies the process of requesting time off and getting approval which saves time. Gizmosys reduces the workload for HR professionals, allowing them to focus on important strategic projects and improving employee engagement. Gizmosys is an indispensable tool for contemporary businesses seeking to elevate their HR functions and boost productivity.
Features
Employee Information
Leave Management
Employee Self Service
Recruitment
Performance Appraisal Management
Offboarding
3. Zerocorp
Zercorp offers HRMS that cater to all your human resources needs. It elevates HR operations across various industries, from IT and banking to finance, sales, and marketing. Zerocorp enhances the company's growth and employee satisfaction by utilising HRMS. Zerocorp streamlines operations across diverse industries, such as IT, banking, finance, sales, and marketing. With a Human Resource Management System, You can enhance efficiency and ensure employee satisfaction. Its software offers features like employee onboarding, payroll management, performance tracking, and leave management, all in one easy-to-use platform.
Features
Dashboard
Recruitment
Employee Data Management
Efficient Collaboration
Complete Employee Service
4. Officenet
Officenet is a cloud-based HRM solution that empowers organizations to streamline their operations with an enhanced methodology, enabling them to efficiently manage tasks while assigning, tracking, and monitoring working hours. It automates and simplifies the intricate processes within HR, ultimately enhyancing business performance and assisting in achieving goals. Officenet precisely reduces costs, conserves time, and allows companies to prioritize strategic and mission-critical endeavours. It customizes workflow structures in accordance with various HR policies, automating essential HR functions for organizations.
Features
Onboarding
Employee Self-Service
Recruitment
Multi-level Workflow
Offboarding

5. Samplex24
Samplex24 is a comprehensive solution that streamlines and simplifies human resource management. Its intuitive interface empowers HR professionals to handle critical HR functions efficiently. This platform automates the entire process, making it easier to manage and track the status of each employee in your organization from employee onboarding to offboarding. Samplex24 offers comprehensive employee management capabilities, including personal information, employment status, qualifications, position details, and skills, providing users with a detailed and insightful view of their organization.
Features
Charts for employee reporting
Search candidate data
Lifecycle activity management
Maintenance of complete work history
6. Intelliob
Intelliob offers a seamless solution for HR management, streamlining and enhancing all aspects of HR operations. From recruitment and position creation to pension disbursement, it provides comprehensive integration for all HR functions. It plays an essential role in the organization, responsible for both bringing new talent on board and ensuring the well-being of existing employees, yet it is often an overlooked department. Consequently, it becomes tough for HR to maintain operational efficiency at optimum levels.
Features
Employee Relations
Recruitment and planning
Organisational Development
Performance Management
Training and Development
Employee Self Service
7. Tech Cloud ERP
Tech Cloud ERP is a cloud-based human resource management system that revolutionizes HR operations by centralizing all essential information into a unified database. This comprehensive solution seamlessly handles payroll processing and attendance management, making these critical tasks more efficient than ever before. Its automated ERP system ensures precision and reliability in attendance tracking for all employees on your payroll. Users can effortlessly input and manage payroll-related data, streamlining the entire payroll process with Tech Cloud ERP. From the initial recruitment stages to an employee's eventual retirement, Tech Cloud ERP offers end-to-end automation and monitoring capabilities.
Features
Employee Management
Recruitment
Training and development
Dashboard
Calendar

Conclusion
Selecting the right Human resource management system is not just a tool but a strategic action that empowers your organisation to flourish. The best HR software in Gujarat automates all HR operations and saves time for more strategic tasks. A well-chosen HRMS paves the way for future success by automating HR processes and nurturing employee engagement. Evaluate your organisations' unique needs and select an HRMS that aligns with your goals, and you'll be well on your way to building a more robust, more efficient, and engaged workforce.