Table of Contents

There are multiple HR software solutions available for IT Companies, irrespective of how big or small your organisation is.
Automating your HR processes and investing in robust software can help you manage employee data better and increase efficiency for your HR teams. You can also manage your payroll and benefits better without manually calculating salaries and overtime hours at the end of each month.

Best 13 HR Software For IT Companies You Should Check Out
In the section below are the 13 best HR software for IT industry that you should check out. We will also cover their main features!
1. factoHR
If you are part of IT Companies and wish to invest in software that is compliant with industry norms, you should check out factoHR. Businesses in IT Companies face a host of HR-related issues, a few of them being unable to manage flexible working hours, scheduling shifts and tasks according to an employee's work and availability status, and being unable to manage performance across different departments. factoHR provides solutions to all of these problems by offering a comprehensive suite of features.
Some key features factoHR provides for IT Companies are shift and task scheduling, work hours management for flexible roles, performance management, assigning tasks and schedules to employees based on their availability, and the handling of variable components such as bonuses and incentives. If you're wondering why you should choose factoHR for the.
With factoHR, you can streamline work hours and schedule tasks according to an employee's availability without over-assigning or under-assigning work, optimise shift scheduling, manage employee onboarding remotely, and ensure a smooth and efficient hiring process. You can also track absences and leaves for each employee and calculate salaries and benefits at the end of each month, quarter, and year for easy payroll processing.
Features
| | |
| --- | --- |
| Better analytics projected via Dashboards help make decisions that are data-driven and not subjective. | Centralised employee database management with appropriate access control serves as a backbone to your entire HR operations. |
| Provide a memorable experience to your new hires using factoHR's onboarding software that automates your onboarding process. | Automate lower-level repetitive tasks by creating multilevel workflows using factoHR's business process automation. |
| Auto-generate various letters and directly share them with employees by using our pre-defined templates. | Using an intelligent chatbot helps resolve employees' queries quickly. |
| Share crucial documents with your employees via the plug-me feature in the mobile app. | Instantaneously inform all employees using push notifications of any events that need their attention. |
| An organisational tree that will help you define clear career paths. | Make the employee exit process smooth by generating full and final settlement using factoHR's offboarding module. |
| factoHR's payroll software allows you to manage payments on time and be 100% compliant with local tax laws. | The acknowledgement module helps you reach out to employees and get quick responses via the mobile app. |
| The survey module enables real-time feedback from employees on relevant topics. | Quickly integrate other factoHR modules like attendance management or timesheet software whenever you acquire them. |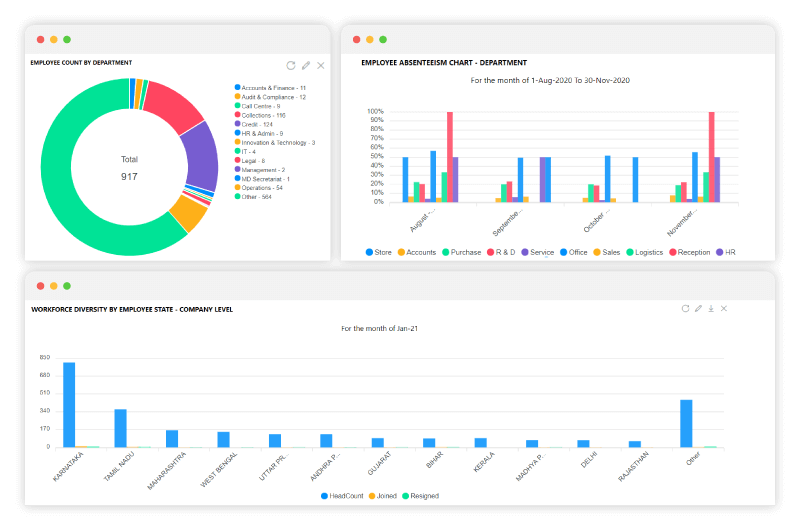 Major advantages of using factoHR are
Ensures watertight security through encryption at rest and SOC Type 2 certified cloud data centres.
Offers an integrated platform that centralises all HR data and processes into a single, cohesive system.
Whether you are a startup, an enterprise or an organisation of any size in Chennai, you can take advantage of the offering as it is scalable to meet your specific needs and requirements.
Provides a clean and intuitive interface that enhances user experience.
As for the pricing, there are four plans that you can check out – Essential, Advance Velocity, Bolster, and Performer. What's more, you can also add multiple add-ons to your plan, including Face Recognition, Self Onboarding, and an efficient Ticketing System.
What People Say About Us


2. CakeHR
CakeHR offers a comprehensive suite of Software and is known for its 360-degree functionality in the workplace. CakeHR offers multiple features that you can make the best of as a small or medium-sized business in IT Companies. It is a cloud-based software, which makes it perfect for remote teams, and offers features such as performance, payroll, leave and absence tracking management. It also integrates with a few common tools/apps that are widely used by SMEs, like Slack and G-suite.
It is known for its simple and intuitive interface, strong leave management and robust approval workflow. It is also quite affordable for small businesses.
Features
The eSignature feature enables you and your team to sign documents electronically.
The Announcements feature in Cake HR has been designed to help you share important news quickly with the entire company.
Your company's org chart is automatically built based on which employee is reporting to whom.
Using recipes, you can create custom workflows that are automated after specific actions.
Store historic employee information & easily access it whenever needed.
3. BreezyHR
Another powerful suite of Software, Breezy HR is known for its recruitment and applicant tracking module for IT industry. If you are a company looking to hire and retain top talent without spending too much time and resources on manual HR processes, BreezyHR is a solid option. Its users praise it for its intuitive interface and beginner-friendliness for most features. It strongly focuses on collaborative hiring, ensuring an efficient, streamlined, and speedy hiring and retention process for your HR team. You can contact the team for a quote or check out their pricing plans on their website!
BreezyHR is great for its customisable pipelines for hiring stages and offers many collaborative hiring tools and team feedback. You can also work with multiple integrations with various job boards and tools.
Features
Email Templates
Applicant Tracking
Applicant Workflow
Application Integration
Application Sharing
Online Activation
Recruiting Management
Social Media Integration
Social Recruiting
Talent Acquisition
Background Screening
Candidate Management
Collaboration Tools
Interview Management
Job Requisition & Posting
Jobs Board Integration
Recruiting Firms
Reference Checking
Self Service Portal
4. Workday HCM
Workday HCM is a comprehensive cloud-based HR software designed to streamline and optimize various HR processes. It encompasses a range of features, including personnel tracking, payroll management, talent acquisition, performance evaluation, and workforce planning. Its prime pro is that it's scalable and regularly updated. However, it can be prohibitive for smaller businesses, and customisation might be limited
In IT sector, Workday HCM holds relevance as it aligns HR needs with modern technological advancements. Its cloud infrastructure suits the industry's agile environment, aiding remote workforce management and data security. Ultimately, Workday HCM streamlines HR operations, positively impacting efficiency and collaboration within IT enterprises.
Features
Document Management
Email Integration
Project Management
Collaboration Tools
Timesheet Management
Portfolio Management
Resource Management
Contract Management
Invoice Management
Reporting
Incentive Programs
Bonus Management
Compensation Management
Organizational Charting

5. Remofirst
RemoFirst is an innovative IT solution tailored for remote team management. Its features encompass virtual collaboration spaces, real-time communication tools, and performance-tracking mechanisms. With seamless video conferencing and interactive whiteboards, it fosters collaboration among remote IT teams, enhancing productivity and idea sharing.
In IT sector, RemoFirst addresses the growing demand for efficient remote work solutions. It bridges communication gaps inherent in distributed teams and caters to IT-specific tasks. By offering a comprehensive platform, it boosts IT project efficiency, adapts to agile methodologies, and accommodates the sector's evolving landscape.
Features
Attendance Management
Document Management
Employee Self Service Management
Expense Management
Inventory Management
Payroll Management
Performance Management
Recruitment Management
Time & Attendance Management
Workflow Management
Compliance Management
Billing & Invoicing
Tax Management
Performance Appraisal
6. Multiplier
A comprehensive platform to take care of your global teams' payroll, taxes, social contributions and local insurance policies. Multiplier provides a hassle-free platform that empowers companies to seamlessly operate and manage international payroll for their global workforce with utmost precision. Effortlessly onboard employees in any country within minutes, while efficiently overseeing the entire payroll process, ensuring compliance with labour laws, and effectively managing comprehensive benefits.
Features
Document Management
Inventory Management
Performance Management
Time & Attendance Management
Compliance Management
Billing & Invoicing
Benefits Management
Reporting/Analytics
Multi-Country
7. Deel
Deel has emerged as a transformative solution in IT sector, offering a streamlined approach to managing global remote teams and freelancers. With its array of features encompassing contract creation, international payments, and compliance oversight, Deel addresses the intricate HR and financial needs of modern IT companies.
As remote work continues to reshape IT landscape, Deel plays a pivotal role in enabling cross-border talent acquisition and management. Its contributions extend beyond operational efficiency, offering IT companies the means to navigate the complexities of a global workforce while remaining compliant and secure. Thus, Deel stands as a driving force behind the growth and adaptability of IT sector in an increasingly interconnected world.
Features
HR & Payroll
Compliance Management
Contract Management
Compliance Reporting
Analytical Reporting

8. Paychex
Paychex holds significance in IT sector as a robust solution for managing human resources and payroll functions. Offering features such as time tracking, benefits administration, and tax compliance, Paychex streamlines complex administrative tasks that are particularly relevant to IT companies.
Automated processes like time and attendance tracking align well with the dynamic nature of IT work environments, enhancing efficiency and accuracy. Paychex's role in IT sector extends beyond mere payroll management, contributing to the industry's operational effectiveness. Taking care of crucial HR tasks empowers IT professionals to dedicate more time to innovation and development, ultimately shaping a more agile and productive IT landscape.
Features
Attendance Management
Document Management
Employee Self-Service Management
HR & Payroll
Payroll Management
Performance Management
Recruitment Management
Time & Attendance Management
Training Management
Workflow Management
Performance Appraisal
Onboarding
Salary Information & History
Appraisal Management
9. Namely
Namely is the final software that we will be covering in our list of best HR software for IT, owing to its advanced data analytics features. It is reviewed quite positively, with users praising its payroll, compliance, ESS portal, and secure documentation features. The software is entirely compliant with industry norms, which is an essential factor that you should keep in mind while deciding which HR software to choose for your IT company.
It has a user-friendly interface that requires minimal training and integration capabilities with other business tools. It also has good customer support and regular updates. It has limited scalability for larger enterprises, and some features might be basic for more complex HR needs.
Features
Document Management
Payroll Management
Mobile App
Onboarding
Payroll Integration
Application Security
Workflow Management
Ad Hoc Reports
Workforce Management
Alerts/Notifications
Social Recognition
Talent Management
Mobile Time Tracking
Content Library
Dashboards & Analytics
Employee Database
Employee Engagement
Access Controls/Permissions
Workflow Configuration
10. Officenet
Mobile-ready cloud-based software will help you to see an employee through the full employee life cycle. Enjoy the core HRMS capabilities like leave management and payroll in addition to Analytics, Training Management, etc.
Officenet HRMS is a completely integrated cloud-based solution that will enable you to create dynamic forms with varying levels of approval workflows. Helps manage tasks with an enhanced methodology, allowing you to assign, track, and monitor task closures. Officenet HR management software enables the management of several HR functions through the use of information technology.
Features
Asset Management
Attendance Management
Employee Self Service Management
Exit Management & Management
Expense Management
HR & Payroll
Knowledge Management
Multiuser Login & Role-based Access Control
Payroll Management
Recruitment Management
Taxation Management
Training Management
Travel Management
Pay Slip
Compatibility with Swap Card

11. BambooHR
BambooHR is a tool that is quite highly recommended for companies in the automotive sector due to the wide range of features it offers. A few features that BambooHR is known for are employee records management, benefits administration, time tracking, and performance management. Also, its intuitive interface and user-friendly setup are perfect for small to mid-sized organizations.
However, it's noteworthy that BambooHR lacks certain advanced features, which might make it unfit for large companies. The pricing model rests on the features you wish to opt for and the number of employees in your company.
Features
Document Management
Employee Self Service Management
Expense Management
Payroll Management
Performance Management
Recruitment Management
Statutory Compliances
Task Management
Time & Attendance Management
Training Management
Employee Database
Mobile App
Leave Management
Applicant Tracking
Recruiting Management
Assessments
12. Employee Vibes
Another great option for you if you're looking for HR software in Mumbai, is Employee Vibes. As the name suggests, the software offers a host of payroll services that you can make the most out of. Its features are payroll management, compliance, reimbursement tracking, and overall expense management. Quickchex is a highly automated tool used by popular organisations such as Acko and Epigamia. The software also has many other features that can be highly useful for managing leaves, onboarding new employees, performance management, and TDS assistance and calculation.
The biggest pro of using Employee Vibes is its speedy and efficient customer support and quick resolution of issues you may face while using the software. Additionally, the payroll processing feature is also praised by its users. However, a few cons of using Employee Vibes is that it offers limited customisation options. As for pricing, you can pay 6,000 rupees/month for the self-service plan and 8,000 rupees/month for the full-service plan.
Features
Attendance Management
Inventory Management
Mobile Support
Payroll Management
Performance Management
Recruitment Management
Statutory Compliances
Survey Management
Workflow Administration
Onboarding
Offboarding and Alumni
Workforce Management
Geofencing Time And Attendance
Employee Hourly Wages
13. Mapol
Mapol software comes with the best combination of features that reduces the stress on your whole HR department and streamlines all the tasks. Besides having an interactive interface to work with, the software comes with labour management, HR data management, a payroll module, and several other functionalities.
The best thing with the software is that you can export the details of the personnel to the accounting software directly without any hassle. It features a database management facility with proper architecture. You also get an optional choice for the backend with it.
Sights and reports to measure crucial business decisions and strategies.
Features
Simple yet powerful and user-friendly application
The application allows you to maintain the human resource data starting from recruitment to relieving and final settlement process.
Fully customizable and can be integrated with any other ERP applications
The application includes a contract labour management system
360-degree appraisal format
Fast payroll processing and generates 'n' number of payslips at a fraction of the time
Integration with Attendance Monitoring Systems like biometric systems, access control etc.
Capable of flexible salary definition using formulas which include ESI, PF, PT
The payroll module enables you to manage advance payments, arrear payments, OT payments, shift allowance payments, gift payments and increment details.
Export option to carry the Salary details to Accounting Software
Database Capability and Client Server Architecture with optional backend, available with Oracle/MSSQL/My SQL/MS Access
All types of government statutory reports can be downloaded

Wrapping Up
Choosing HR software for your company in IT Companies can be quite confusing and often overwhelming. To ease the process, you should consider the software's compliance with industry standards, security, and overall efficiency and user-friendliness.
You can check out tools like factoHR, People, Namely, and Razorpay to get started and then narrow down your options based on your company's needs and goals.
Some Common FAQs
What are some great HR software options for IT Companies?
You can check out software such as factoHR, Zenefits, Namely, and Oracle HCM Cloud.
What should I keep in mind before choosing HR software for IT Companies?
You should keep industry-specific compliance, security, and scalability in mind before choosing HR software, as all of these factors will impact your ROIs in the long term.
What are some common problems IT companies face with their HR processes?
A few common problems that IT companies face are being unable to manage flexible working hours, scheduling shifts and tasks according to an employee's work and availability status, and being unable to manage performance across different departments.