Digital Marketing Manager Job Description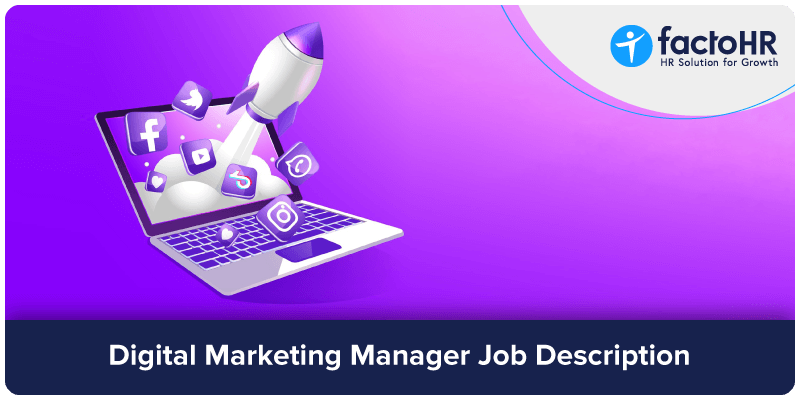 A digital marketing manager is a professional who is responsible for working with various marketing campaigns to maintain a brand's online presence. The common duties they have to perform are researching, strategizing along with other professionals, and creating content for different marketing campaigns.
Digital Marketing Manager Job Description Template
We are looking for an extremely creative digital marketing manager to lead our marketing team. In this position, you will be responsible to handle all aspects of our marketing operations. Your main goal is to help grow our brand locally along with increasing brand awareness and loyalty.
Other duties include planning, executing, and then monitoring our marketing campaigns across all digital channels. The ideal candidate must be experienced in marketing and social media management. Additionally, they should also be an outstanding communicator while demonstrating excellent analytical and interpersonal skills.
Digital Marketing Manager Role and Responsibilities:
Overseeing and designing each and every aspect of digital marketing, including advertising campaigns
Preparing and monitoring budgets for the campaign
Making reports for our marketing campaigns' overall performance
Coordinating with advertising and media experts to boost marketing results
Recognizing the current market trends and technologies that affect the industry
Analyzing the crucial metrics which can affect the traffic and target audience
Coordinating with the team to brainstorm innovative ideas
Overlooking and handling digital projects like giveaways and contests
Digital Marketing Manager Requirements:
Having a bachelor's degree in marketing or a similar field
Having at least 3+ years of experience in advertising and marketing
Extensive knowledge of all social media platforms and website analytics
In-depth understanding of HTML, CSS, and javascript
Excellent communication and interpersonal skills
Staying up to date with the latest trends and technologies in digital marketing

Digital Marketing Manager Job Description Sample
We at MSP Ltd. are looking for an enthusiastic and innovative digital marketing manager. They must be able to build, manage, track and optimize our digital marketing campaigns across each digital channel. To lead our digital marketing campaigns you should have a strong grasp over marketing tools and ability to lead the campaigns from its initial stage to its execution.
Role and Responsibilities:
Planning and executing each aspect of digital marketing, including SEO, email campaigns and social media
Designing, making and maintaining our social media management
Measuring and creating reports of all campaigns and assessing them against the goals
Identify trends to optimize the performances on the basis of the insights
Bringing out new and innovative growth strategies
Collaborating with different teams to optimize user experience
Strong analytical ability for evaluating end-to-end customer experience
Collaborating with other agencies and vendors
Requirements:
Having bachelors or masters degree in marketing or similar field
At least 1 year of experience in digital marketing and leading SEO/SEM
Creative enough to implement digital campaigns that engage the audience
Prior experience in optimizing the landing page and funnels
Knowledge of tools used in advertising and website analytics
Knowledge of javascript, HTML and CSS
Having excellent analytical and data driven thinking
Staying up-to-date with trends in online marketing

Frequently Asked Questions
With whom do digital marketing managers work with?
Generally, digital marketing managers work with a team of other marketing professionals that oversee different channels like SEO and PPC. The team works under the manager who sets the priorities and directs the overall marketing efforts of the team.
What makes a digital marketer successful?
A successful digital marketer needs to create and make a copy of websites and other platforms, optimize website images and understand how marketing is impacting. They will also have the responsibility of providing accurate reports on ROI of our campaigns.