All You Need to Know About HR Reporting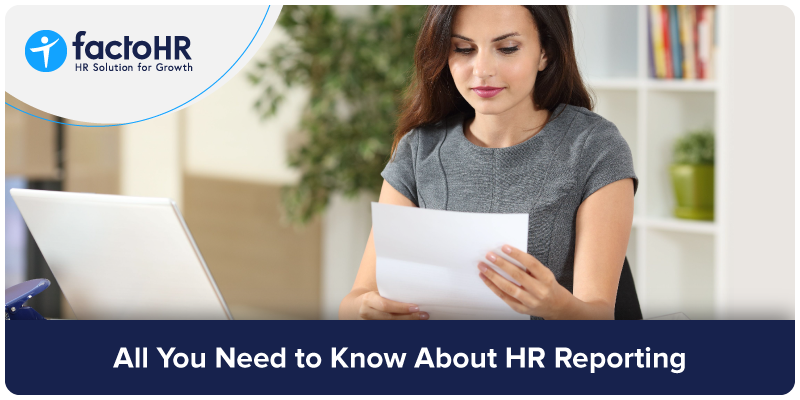 We know that the HR department is one of the busiest departments in the organization, they go all the way to make sure that the right talent is hired and retained by providing a smooth employee experience, but doing all through this is not easy for them. In order to fulfill their duties and responsibilities, they need to take assistance from HR reports.
HR reports can be used to identify areas of improvement and understand patterns, bottlenecks and risks in the HR process like employee performance, retention, hiring strategies, etc. It can also be used to see how well your staff is performing in achieving the organization's goals. That is why it is very important for the HR department to maintain HR reports so that they can work proactively to weed out any HR-related problems.
What is HR Reporting?
HR report is an analytical tool for discovering and displaying hr related data for further decision-making in the organization. It can be helpful in identifying strengths & weaknesses of all the areas, developing plans and activities for solving any problem, and knowing the overall picture of your organization's staff.
Generating different kinds of HR reports can be time-consuming because there are different types of data like employees' attendance, payroll, performance, etc, that need to be collected and compiled to produce HR reports. A web based HR management solution can be used to get all these mentioned data and generate customized reports as per organization's needs. Along with that, it can also be used to present these reports in a dynamic, graphical view.

Importance of HR Reporting
Importance of HR areas like employee experience and employee engagement is rising at a rapid pace. So it is not sensible to make crucial HR decisions or policy decisions solely based on gut feeling. Every decision HR makes has a significant impact on the growth and success of your company.
Adopting data-driven decision-making can add value to your business, increase employee experience and engagement, thus contributing to the organization's growth. HR reports can provide you with all the information about your workforce and business process to make it a basis of your decision. So it empowers you to make more informed decisions to support processes that help in your growth journey and fix any issues barring employees from giving their best work.
Through HR reporting, top-level management can also optimize their management style and take the organization to the next level. So, all in all, HR reporting keeps everyone on the same page and brings the best out of each employee.
Types of HR Reports
There is N number of HR reports out there, but more information also can cause decision paralysis so to help you we have come up with a list of the most common HR reports which are essential and gives you all over workforce trends.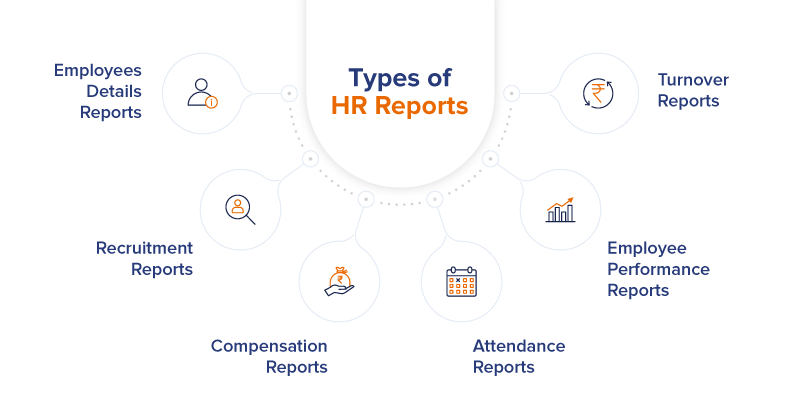 Employees Details Reports
Employee details reports include basic details of the employees like the total number of employees and employees' personal information like their phone number, address, and qualification, etc. These reports are mandatory to be maintained for the organization according to the statutory requirements. Employee details reports can be used by organizations to compare data across departments, locations and other cross-sections to get overall understanding of organization's performance.
Recruitment Reports
One of the most important reports required to make a recruitment strategy is the recruitment reports. These reports include all the details of the whole recruitment process like vacant positions, number of applicants, types of interviews, interview ratings, offers sent, offers accepted, and many more. These reports are used to monitor the recruitment process and fulfil the recruitment needs.
Compensation Reports
Maintaining compensation reports is one of the most important for an HR in any organization. These reports include salary reports, expenses reports, employees' pay slips, etc. Generally, HR reports are only presented to the management of the organization, but compensation reports are needed to be sent to the government, and salary pay slips are distributed to the employees.

Attendance Reports
Attendance reports include all the employees attendance records like their daily in and out reports, absentees records, overtime records, types of leaves and leave balances reports, etc. These reports can be used while calculating employee salaries for possible deductions from their salaries and leave balance.
Employee Performance Reports
Employee performance reports include each employee's targets report, actual work done report, 360-degree review report, etc. These reports are generated on the basis of employees' overall performance throughout the year. These reports are very important because they are used to evaluate employees' performance and reward them accordingly.
Turnover Reports
Employee turnover is the percentage of employees who have left the organization in a given period of time. It's important to maintain the turnover ratio in reports because they are useful to know how many employees are leaving your organization and why they are leaving. so that you can work on it and evaluate your employee retention strategies to reduce your employee turnover rate.

Conclusion
HR reporting is an essential activity for any HR in their organization. It provides crucial data and insights of your employees, and the more data you get will make it easier for your company to analyze and make decisions. With this blog, we have tried to explain everything about HR reporting and we hope that now you will be successful at using it.