Employee Recommendation Letter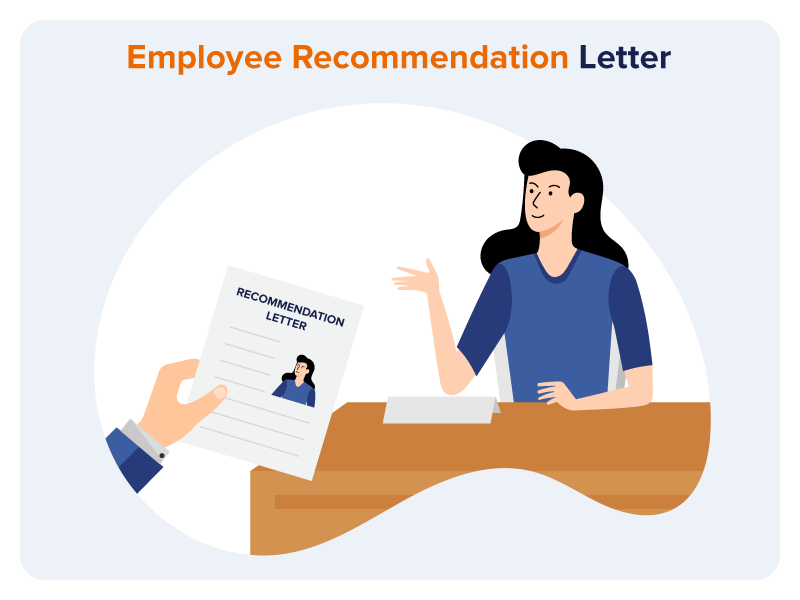 Managers often have to write a reference letter generally for an employee that has worked with the organization and is going to leave. At the time of a job search, it is helpful for employees to land a new position when they have an endorsement from their previous employer.
Besides this, if you can't honestly and strongly recommend a particular employee for the position, or if your company does not have a policy of giving recommendations, you can politely turn down their request for reference.
If your organization has the policy to recommend employees, then it's essential to write it appropriately. If you are new to this here, we have got you covered. In this blog, we will mention the meaning of a recommendation letter with a recommendation letter format and sample.
Meaning of Employee Recommendation Letter
An employee recommendation letter, also known as a letter of reference, recommendation letter, or employee reference letter, is a letter that an employer writes to recommend a former employee mentioning their qualities and skills. The letter positively deems the candidate as ideal for the job. Therefore, recommendation letters are typically helpful for employees looking for a new job as they can share them with different hiring managers and get their dream jobs.

How to Write Employee Recommendation Letter
Here are the three points to keep in mind while preparing the recommendation letter format:
Include all specifics
Whenever you need to write a recommendation letter for a former employee, ask them to provide you with the information which helps you to make the letter more specific and complete. When an employee works for your organization for a while, they may have acquired new skills meanwhile. So you should ask the employees to provide their updated resume that mentions everything.
Mentioning the dates is also important as it confirms the duration they have worked with the organization. Also, you can ask the employee what type of job they will be applying for in the future so that you can add the information in the letter which is more specific and in its regard. Even you need to ask employees in case when they need some specific names in the letter to be included such as the manager's name.
Correct format
The format of the letter should be formal and professional. Begin with the contact information and along mention the date and the contact details of the hiring manager. After that, include the salutation and start writing the body of the letter, where it should begin with what are the capacities of the candidate and since how long you know them. Further, you can elaborate about the candidates' skills, strengths, and experiences which make them stand different and exceptional from others. If the employee has earned specific achievements during their tenure, also highlight them.
The closing statements should show your confidence in the former employee and provide a strong recommendation for them. In the ending also include that you are available to answer any queries and will provide clarification for any of their questions.
If needed send an email
In some cases employees can ask for an email to their potential employer. In that scenario follow all the same format used for the letter and just exclude the address part. In the subject of the email write the person's name and the position they have applied for. For example, Subject: Janhavi Shah – Reference for Business Development Executive.

Employee Recommendation Letter Format
Here is a recommendation letter format that is written by the employer for a former employee. It consists of the employees' information such as their qualities and attributes on the job along with a strong recommendation for future jobs.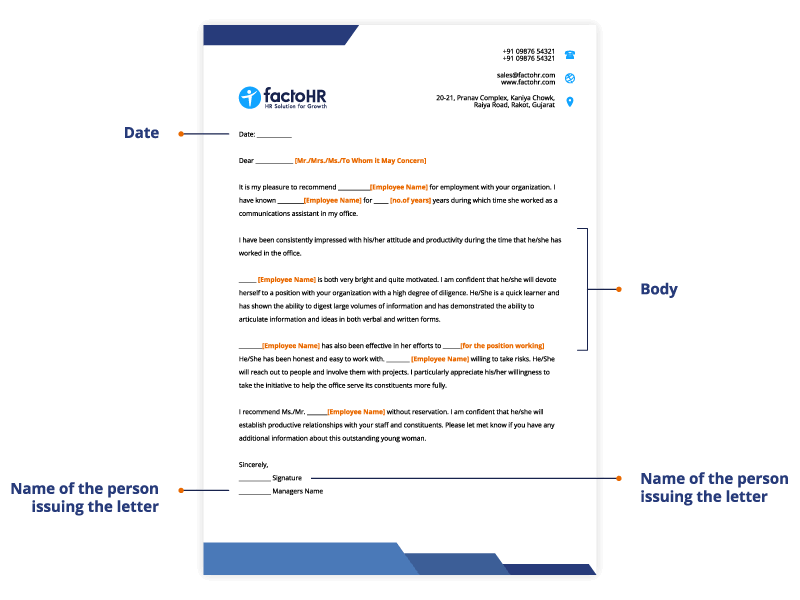 Employee Recommendation Letter Sample
The following are the different samples that can be issued to employees in case of any inappropriate behaviour, poor performance, and absenteeism.
Recommendation Letter

4th, JAN 2022

Dear Mr. Bipin Kumar

It is my pleasure to recommend Shruti Jain for employment with your organization. I have known Shruti for over two years, during which time she worked as a communications assistant in my office.
I have been consistently impressed with Shruti's attitude and productivity during the time that she has worked in the office.
Shruti is both very bright and quite motivated. I am confident that she will devote herself to a position with your organization with a high degree of diligence. She is a quick learner and has shown the ability to digest large volumes of information. Ms.Shruti has demonstrated the ability to articulate information and ideas in both verbal and written forms.
Shruti has also been effective in her efforts to engage the media we outreach to. She has been able to write interesting press releases and articles and convince editors to publish those pieces. Ms.Shruti is willing to take risks. She will reach out to people and involve them with projects. I particularly appreciate Shruti's willingness to take the initiative to help the office serve its constituents more fully.
I recommend Ms.Shruti without reservation. I am confident that she will establish productive relationships with your staff and constituents. Please let me know if you need additional information about this outstanding young woman.
Sincerely,
Anjali Ahuja

Frequently Asked Questions
What to do when you are preparing a reference letter for an employee?
First and foremost you need to be extremely confident in recommending the employee. If you are willing to provide, the reference then collect the information required. Ask the employees about the purpose of the letter and what are their requirements.
Are there any specific instructions that need to be added in reference letters?
Many times the letter has many requirements to fulfill before submitting it. It could mean that the letter is part of the application process and is essential to provide. There might be requirements to create a digital letter instead of a physical one. Another requirement might be to include the name of the manager and their contact details. The best way to properly write reference letters is to know all the requirements of the former employee.

Key Points to Remember
Always ask for a copy of an employee's resume to write a detailed letter, endorsing them as per the job requirement.
Showcase the examples so, that the person's attributes are highlighted.
At the end of the letter mention that you are open to providing further information and clarification.
If you are not willing to provide the reference letter then refuse the employee politely.