Table of Contents

As India being one of the largest growing economies where there is an influx of top tier talents and technological advancements, hiring the right candidate for your organization becomes very challenging and a necessity. Apart from this, it also comes with a unique set of challenges like talent shortage, engaging with candidates, biases in hiring, creating an efficient recruiting process, reducing time to hire and so on.
In a country like India, recruitment software is proven to be a game changer, providing automation to the whole hiring processes.Today, recruitment software in India is acquired by various organizations as it ensures compliance and provides valuable data which helps in hiring most qualified candidates. This software comes with various features like manpower requisitions application tracking system (ATS), offer management, and candidate sourcing.
This article will help you understand its importance and select the right software for your organization to optimize your hiring workflow.

List of Top 11 Recruitment Software in India
1. factoHR
factoHR provides a robust, all-in-one solution for hiring skilled talent. factoHR solution covers whole recruitment lifecycle processes from candidate sourcing to onboarding. It streamlines all recruitment challenges by providing an end to end solution to the hiring process making it automated and efficient.
factoHR reduces time to hire a candidate by offering the various standout features like manpower requisition, resume parsing, duplicate detection, profile matching, offer management, self-onboarding, interview scheduling etc. Its built-in integration with other internal systems optimize the hiring process, eliminates repetitive data entries and delivers a proficient candidate experience.
In addition to that, factoHR also offers onboarding software that helps HR streamline the induction process for new hires, With features like customizable letter creations for various purposes, asset management, document management, etc ensures a smooth administrative process and an optimal workflow.
What People Say About Us
Features
| | |
| --- | --- |
| Digitize manpower requisition process enabling managers to quickly raise requisitions, get approvals, and post job openings. | Highly efficient applicant tracking system streamlines the hiring process. |
| Allows HR to generate and send offer letters from the recruitment software itself. | Its candidate sourcing process attracts top tier talents for your organization. |
| Enables candidates to accept or decline offer letters and also to onboard themselves. | With its internal job board, internal transfers can be done smoothly. |
| The resume parsing feature enables a quicker and efficient hiring process, preventing data duplication. | Enhances operational efficiency of HR by customizing offer letters through templates. |
| Provides an invitation link to new hires and allows them to upload their document in the system. | Transition of candidates into employees by importing their data in the employee master database. |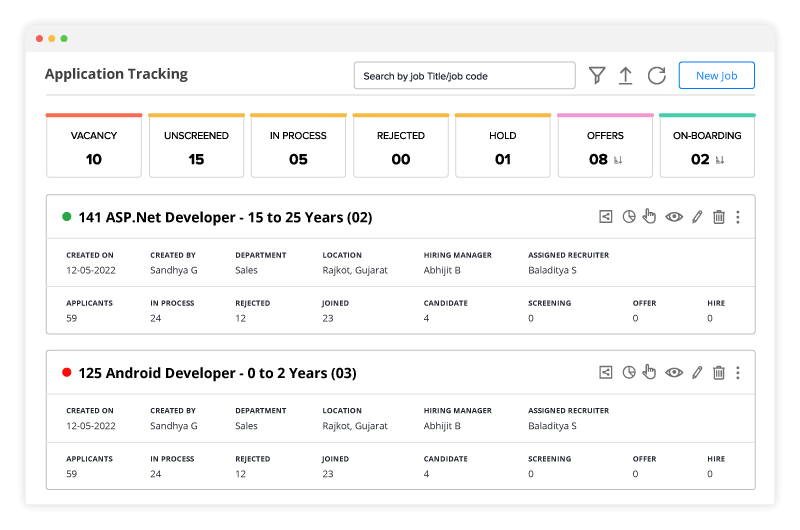 Benefits
Manpower Requisition: Optimize your workforce, meet staffing needs and improve productivity of your organization and align workforce with strategic goals to achieve high quality work.
Applicant Tracking System: Reduce your manual resume review time and create job posts easily and automate candidate communication process to increase accuracy and efficiency in hiring process.
Offer Management: Create customized job offers, streamline and automate offer creation, and approvals from candidates without any delays.
Built-in Capability: Integration with onboarding, payroll and other internal systems optimizes the process of maintaining new employees' data.

2. Talview
Talview is an AI featured recruitment software that smoothes the hiring process by providing a range of digital tools. From initial hiring to onboarding the talent, the software aims in improving the decision making efficiency within the organization. It offers features like text/scan to apply and a recruitment chatbot that minimizes repetitive recruitment tasks, saving valuable time for HR personnels.
With its advanced verification process, it eliminates the risk of proxy applicants and provides a seamless experience to candidates. Automation in scheduling interviews or meetings avoids conflicts, ensuring a streamline interview process for both job applicants and interviews. It provides biased free and effective assessment of candidates with its AI-supported video interviewing.
Features
Recruitment Chatbot
AI-Based Interview scheduling
Interview Insights
Text To Apply
Assessment Library
Talent Exchange
Record and Review
Exam Engine
Live Remote Proctoring
3. Trakstar Hire
Trakstar Hire offers an efficient recruitment software that integrates all recruitment steps into a single, online platform that attracts top talents. It makes the whole process straightforward and hassle-free by allowing you to post job openings on your company's website as well as on a career's page of Trakstar Hire. Also, it boosts your reach to post these openings to search engines and enables easy sharing on social media platforms.
Its customizable workflow feature allows you to track candidates smoothly as they progress through various hiring stages. It provides you a collaborative approach in inviting candidates to apply for a job opening, assigning them to oversee them at particular stages and consolidating shared feedback for more detailed evaluation. This ensures HR to make informed decisions for hiring while saving time and resources.
Features
Applicant Tracking
Candidate Sourcing
Interview Scheduling
Offer Management
Collaborative Hiring
Reports
Career Site Management

4. Freshteam
Freshteam is a comprehensive recruitment software in India designed to streamline the entire hiring process, from candidate sourcing to extending offers. The platform excels in attracting both active and passive candidates; it allows you to capture active candidates through various channels like social media, branded career sites, and external job boards. For passive candidates, Freshteam offers a specialized Chrome plugin to identify and nurture top-quality prospects. Additionally, the system provides a talent pool feature that archives promising candidates for future hiring needs.
The platform also includes robust screening tools, such as pre-assessment tests and automated resume filtering, to save time and ensure you're engaging with the most suitable candidates.Freshteam also offers a centralized dashboard—Candidate 360—that provides a holistic view of each applicant, including resume details, emails, and interview scores. The software integrates seamlessly with various third-party services like Mettl for pre-assessments, LinkedIn for job postings, and Skype for video interviews. A mobile app and an intuitive user interface make it easy for your team to manage recruitment on the go.
Features
Applicant Tracking
Job Setup
Job Requisition
Candidate Sourcing
Candidate Management
Offer Management
Employee Information System
Time-off
5. Greenhouse
Greenhouse offers a hiring system for companies that prioritize people-first approaches. The platform covers every facet of the recruitment process, from sourcing candidates to structured interviews and onboarding. It aims to enhance the overall quality of hires, reduce biases, and foster diversity. Greenhouse also offers tools for performance metrics, allowing you to continuously assess and refine your hiring processes.
The software doesn't stop at recruitment; it also facilitates a smoother onboarding experience for new hires. Automated tasks and customizable welcome experiences are designed to integrate newcomers swiftly and fairly into your team. Additionally, Greenhouse introduces Sourcing Automation, a feature to help recruiters find and engage top talent more efficiently. This all-in-one solution is geared toward not only improving your current hiring practices but also setting the groundwork for ongoing refinement and efficiency.
Features
Source/Nurture Right Candidates
Fair and Equitable Hiring Process
Exceptional Hiring Experience
Robust Data and Reports
Flexibility with Recruiting
Scalable to all Sizes
Mobile App

6. Workable
Workable is an all-in-one recruitment software in India that caters to companies of all sizes. It aims to enhance the candidate experience with customizable, mobile-friendly career pages and application forms, as well as multilingual support.Workable also includes capabilities for resurfacing past applicants and leveraging employee networks through an advanced referrals system.
For hiring teams, Workable offers an intuitive user interface complete with visual dashboards and two-way email and calendar syncing for Gmail and Outlook. A mobile app allows for on-the-go recruitment activities, and role-based access ensures that each team member has the appropriate level of information and capabilities.
Features
Anonymized Screening
Convenient Interview Scheduling
Assessments
Custom Candidate Profiles
Offer Letters and Approval Workflows
New Hire Onboarding Portal with e-signatures
Top-rated Mobile App
7. iCIMS
iCIMS is dedicated to prioritizing your workforce, offering an AI-driven hiring platform that not only enhances efficiency but also reduces recruitment expenses while surpassing candidate expectations. With our all-inclusive recruitment software, we ensure optimized returns at every hiring phase.
Their Talent Cloud stands out by utilizing AI to provide precise guidance, suggestions, and insights throughout the talent acquisition and mobility journey. From attracting a diverse, global pool of candidates and engaging job seekers to rapid, large-scale hiring and promoting talent retention, iCIMS is your comprehensive solution.
Features
Applicant Tracking System
Career Sites
Candidate Relationship Management
Digital Assistant
Employee Onboarding
Marketing Automation
Opportunity Marketplace
SkillSurvey
Text Engagement
Video Studio
Analytics & Advanced Analytics
Talent Cloud Applied Intelligence
Insights and Insights Advisor

8. Bullhorn
Bullhorn offers a cutting-edge solution to automate the entire recruitment management, allowing businesses to optimize relationships and achieve unparalleled ROI. Recruiting automation by Bullhorn not only streamlines repetitive workflows but also enhances communication throughout the hiring process. This ensures that teams can allocate more time to revenue-boosting activities, while also maintaining productivity and ensuring timely execution of tasks.
Furthermore, Bullhorn emphasizes the importance of data health by identifying and rectifying inaccurate records through automated cleanup processes. This automation extends to creating enriched experiences with candidates, clients, and contractors, and enhancing the accuracy of the database. By simplifying tasks like copying, clearing, and setting field values, Bullhorn ensures a smoother interview and hiring journey.
Features
Automate recruiting busywork in a few clicks
Schedule meetings and interviews with ease
Personalize communication via email, SMS, & Chatbot
Gather intelligent insights
Deliver Intelligent Jobs
Manage Compliance
Enable e-signature
Easily configure workflows
9. CVViZ
CVViZ is a leading recruitment automation software designed to streamline your daily recruiting activities. With its AI capabilities and user-friendly interface, CVViZ effortlessly manages tasks ranging from candidate sourcing and screening to engagement, significantly reducing the time it takes to hire top talent. The platform's intelligence doesn't stop there; it also offers a seamless process from job posting to extending offers.
Furthermore, CVViZ ensures widespread visibility for your job listings by publishing them on over 20 free job sites and partnering with 2000+ job boards for premium advertisements. Its advanced screening utilizes NLP and machine learning algorithms to efficiently match and rank resumes. This ensures that recruiters can effectively engage, track, and extend offers to the most suitable candidates with ease.
Features
Resume Screening
Applicant Tracking System
Recruitment CRM
Candidate Sourcing
Integration
Employee Referral

10. Humi
Humi offers a streamlined Applicant Tracking System (ATS) designed to help you identify and recruit top talent efficiently. With features like Indeed integration, customizable hiring funnels, and automated workflows, the platform significantly reduces the time and effort in the recruitment process. Additionally, Humi promotes team collaboration by unifying the hiring platform with the employee database, ensuring a consistent and integrated experience.
Onboarding is made effortless with Humi. Automated workflows and tasks ensure a seamless transition for new hires, while centralized document management keeps everything organized. Moreover, the platform emphasizes a warm welcome for newcomers by offering personalized welcome messages and features that foster an inclusive work environment.
Features
Seamless Integration
Automated Hiring Workflows
Hiring Teams
Streamlined Interviews
Manage Applicants
Offer Management
Customisable Job Boards
Analytics and Reports
11. OfficeNet
OfficeNet user-friendly recruitment software allows employees to apply for vacancies based on their interests and possesses features that provide automation from posting job offers to onboarding qualified candidates. This reduces repeatable HR tasks and saves hiring costs and time through various reports and analytics.
Moreover, their system enhances the reach of job postings by sharing them on major job boards like Glassdoor and Indeed, Facebook, Twitter, and LinkedIn. The robust online recruitment solution captures candidate details from various sourcing channels, reducing the time it takes to fill a position. This structured approach ensures a meticulous capture of every detail, from sourcing to evaluation, enhancing the quality of hires and setting your organization up for success.
Features
Multiple Job Posting
Employee Referral
Analytics and Reports
Centralized Database
Recruitment Through Consultant

Benefits of Implementing Recruitment Software for Your Organization
Recruitment software is designed to efficiently serve this purpose by automating the hiring process and benefits you in several ways like:
It allows you to create job openings, track applicants and schedule online interviews or conduct screening processes.
It ensures that the most suitable candidates are selected for the company.
It saves time of manually searching for suitable candidates and gauging their interest levels.
It speeds up the hiring process by providing automation, letting HR focus on decision-making.
It easily adapts to the needs for your growing organization and ensures compliance.
Core Features of Robust Recruitment Software
The essential features needed in a recruitment software are as follows:
1. Manpower Requisition
Manpower requisition, also known as a staffing request or personnel requisition, is a formal process within an organization where a department or manager requests additional employees or temporary staff to fulfill specific job roles or projects.
This process typically includes providing details such as the number of positions needed, job descriptions, required qualifications, and the justification for the request. Manpower requisitions are essential for effective workforce planning, ensuring that the organization has the right personnel to meet its operational and strategic goals.
2. Applicant Tracking
Applicant Tracking refers to the systematic process of managing candidates as they move through the various stages of the hiring cycle. This often involves collecting and storing applicant data, screening resumes, scheduling interviews, and assessing candidate performance.
ATS provides a centralized platform where all candidate information is stored and accessed easily. It helps in categorizing candidates based on their qualifications, experience, and suitability for the role, making it easier to initial evaluation process such as screening, interviews, assessments, and lastly, job offers.
3. Resume Parsing
Resume parsing is an advanced feature that automatically extracts essential information from candidates' resumes. This feature streamlines the recruitment process by identifying certain details like contact information, educational background, work experience, certificates and more.
It converts unstructured resume data into a structured format while allowing recruiters to quickly filter candidates based on their necessity. This technology is useful for such organizations where the number of job applicants is high as it eliminates the manual data entry and makes the entire process more efficient, accurate and quicker.
4. Onboarding
Onboarding is a process where new hires are being introduced to company's policies to speed up their settling time and simplify the organizational tasks. This software offers a well structured onboarding program that overcomes the challenges that hinders effective onboarding and ensures that new hires feel welcomed, informed, and prepared, thereby improving employee satisfaction and retention rates.
5. Offer Management
Offer management in recruitment software refers to the suite of tools and processes that facilitate the creation, extension, tracking, and acceptance of job offers to candidates. This feature ensures that job offers are created from the system and sent to candidates for approvals.
It tracks for status updates, such as acceptances or rejections from the applicant, making the hiring process quicker. Offer management can also integrate with other tools to handle related aspects like salary negotiations, start date coordination, and onboarding preparations.

Wrapping Up
Selecting the right recruitment software can be a game changer for your organization, ultimately benefiting HR professionals. Investing in this advanced hiring technology ensures the most qualified candidates are recruited for your organization.