Table of Contents

UAE is one of the economic powerhouses among other Middle Eastern countries, yet businesses need help managing human resources. According to Mercer, the Middle East's HR leaders prioritize employee experience, improving rewards, and upskilling activities. Improving employee experience and providing upskilling opportunities require data analysis frequently.
This is where advanced HR software comes into play. It helps you analyze employee data and understand the opportunities employees seek to improve retention. However, you need software that provides comprehensive visibility of human resources.
This article will help you decide why you need HR software in the UAE and how to choose the best option. Let's begin by understanding the reasons to get HR software for your business in the UAE.

Benefits of using HR software in the UAE
Without effective software, human resources management takes more effort because you have to work with limited data. Choosing the right HR system in the UAE can help you with data-driven insights that optimize employee management, engagement, and costs.
Some key benefits of using HR Software for your business in UAE are
1. Improved employee management
Improving employee management is a holistic approach that encapsulates different aspects, such as managing employees: perks, productivity, engagement, and more. Many HR Software in the United Arab Emirates provide many features to track employee engagement and how well they receive different perks you offer as an organization.
Further, data analytics capabilities from the HR system help you integrate important information with your payroll calculations. This helps organizations consider performance and attendance data before calculating payouts.
2. Increased compliance with business policies
Organizations have specific policies for data access, cloud security, and integrity of intellectual property. Tracking employee behavior and ensuring cybersecurity becomes easier with adequate approvals and monitoring. You need HR software for UAE that provides an automated approval process that ensures compliance with organization policies.
For example, there is a role-based access control(RBAC) policy, where specific employees can access data with restrictions per business requirements. The approval process must align with your organization's policies, from role definition data access requests to verification and permissions.
So, you need software that helps customize policies and automated approval processes that ensure compliance.
3. Better collaboration and communication
HR solutions can help your organization improve collaboration and communications for enhanced agility. Changing market demands require agile teams that adjust according to the business requirements. HR solutions can help you determine collaboration roadblocks and reduce them.
To gain insights, you can integrate communication platforms and collaborative services with HR software in UAE. It will enable you to design specific policies for better collaborations.
4. Enhanced talent management
What makes HR software in the United Arab Emirates crucial is talent management. Most regional organizations are coping with the changing demands of talent through attractive packages and salaries. However, skilled professionals need more incentives to join an organization in the current era than just monetary gains.
A Gulf News report says that every 1 in 4 employees in UAE has switched jobs at least once in the last 12 months. Managing talent and ensuring retention or onboarding new skilled professionals need an effective Human Resources Management System (HRMS). This is why you need to choose an HRMS in UAE that provides strategic talent management through data analytics.
5. Cost savings
A significant cost for human resource management in the UAE is hiring. Organizations must invest in recruitment, onboarding, and offering perks when hiring talent. This can be a costly process, leading to an increased budget.
Choosing the right HRMS in UAE ensures cost-efficient hiring by automating specific tasks and reducing the resources required for onboarding new talent. HR systems can help you streamline the onboarding process, payroll management, and recruitment costs.

15 Best HR Software in the United Arab Emirates
HR software in the United Arab Emirates offers many features that help you overcome critical human resource management challenges. Some options you can choose are
1. factoHR
factoHR is your all-in-one HR software in the UAE, enabling businesses to optimize human resource management, reduce costs, and improve compliance. Being a leading HR software provider in the UAE, it has a proven track record in delivering HR management solutions for several businesses.
Mobile-first HRMS system from factoHR provides automation of HR operations on the go. It includes management of employee engagement and boosting higher retention. The user-friendly interface of the mobile app makes HR management easier and allows you to track all the activities efficiently.
Top Features
Mobile-friendly dashboards help you track all the essential human resource data for your organization.
Automation of crucial HR tasks through a workflow-based automatic approval system.
HR, payroll, and attendance tracking through a centralized dashboard providing an all-one suite.
Complete documentation for all the HRM activities, reducing the issues of conventional document management.
Advanced analytics providing data-driven insights into employee attrition and engagement.
Self-onboarding link generation for recruits to reduce the hassle of onboarding each candidate manually.
Decreased onboarding time through prebuilt exit and clearance checklist.
Reduced paperwork required in HRM with cloud storage and retrieval features.
Real-time feedback for employees is shared through the plug-me feature, which ensures every employee gets the latest information.
Simplified hierarchy across organizations through cloud-based HCM capabilities.
Ease of mobile surveys and real-time feedback sharing with your employees.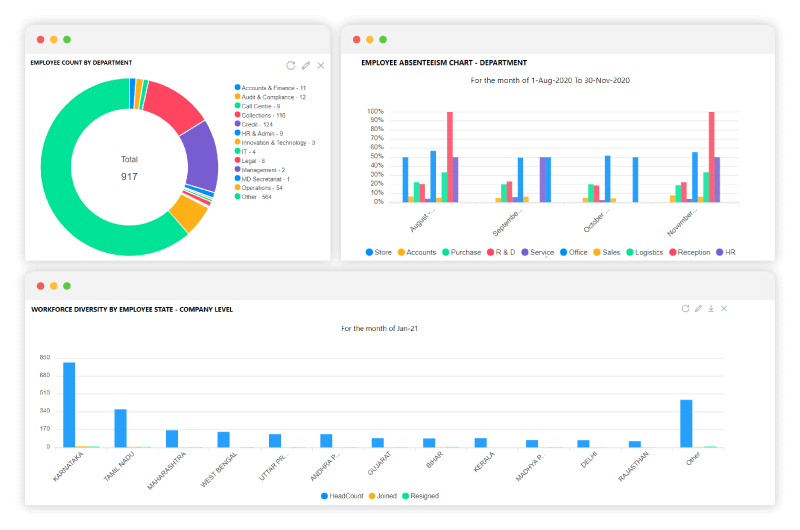 Why Choose FactoHR?
FactoHR provides a comprehensive HR system in the UAE, enabling organizations to improve talent management and enhance the onboarding process. Other benefits include.
Real-time data analytics, which ensures you control all the human resources activities
Comprehensive reportage on different employee data, allowing you to fine-tune policies for better retention
Automation of specific HR tasks, allowing you to focus more on core business functions
Complete control of payroll management, helping you optimize costs and improve ROI
The smoother recruitment process with enhanced profiling and no-hassle onboarding
What People Say About Us

Pricing
Need mobile-first HR software in UAE? factoHR offers several options at different prices. These plans come with a multitude of features that enhance HR management.For example, if you choose an essential plan, it covers a wide range of HR functions, but with an advanced velocity plan, payroll, core HR activities, and mobile-based features are added.
Choose your plan based on your HR software requirements to improve employee engagement, retention, and payroll management.

2. Bayzat
Bayzat is another option for HRMS in UAE, which offers automation of critical tasks and enhanced employee benefits. It provides an intuitive interface for users and improves performance evaluation for multiple employees across the organization. You can use Bayzat software to customize different HR-based roles and set permissions for data access.
The software focuses on improving employee experience, which is why it offers specific reports on data on employee engagement.
Key features of Bayzat
Faster employee payments
Attendance tracking
Performance evaluations
Employee data management
3. Apploye
Apploye is an excellent time-tracking and HR management system with a mobile version, making remote team tracking easier for organizations. You can use it to customize online timesheets and track employee's work automatically.
It also provides features for manual entry for effective tracking of work. Further, you can use it to check missed shifts, late attendance, and overtime.
Key features of Apploye
Time tracking for all employee activities
Custom timeline sheet generation
Access to monthly, daily, and weekly timesheets
Remote evaluations of employee productivity
Streamlines payroll and billing
4. Disprz
Disprz is an HRMS in UAE focusing on employee skills training to align with organizational goals. It also offers a dashboard and analytics for employee evaluations to check whether they are ready for the next promotion or lack vital skills.
Further, you can use Disprz to strategize organizational learning and development, enabling enriched employee training.
Key features of Disprz
Enhanced employee training
Better performance evaluations
Customize training modules
Strategic learning and development
Skill assessments for role allocations

5. Elate HRMS
Elate HRMS provides customized software for small and medium-sized businesses for employee data organization, payroll, and leave management. You can use it to create custom employee status reports and have paperless HR management.
It also facilitates automated real-time notifications for different organizational activities related to HR.
Key features of Elate HRMS
Payroll administration management
Scheduling features for different HR activities
Automated notifications for any changes in real-time
Time tracking and timesheet generation
Leave management
6. EmiratesHR
EmiratesHR is another option for HR software in the United Arab Emirates with cloud capabilities. It provides HR solutions for small businesses, educational institutes, and government agencies.
The HRMS from EmiratesHR offers benefits management, perks evaluations, onboarding, and payroll management.
Key features of EmiratesHR
Leave and attendance management
Documents management on the cloud
Recruitment and application tracking
Onboarding management
Remote monitoring of crucial employee insights
7. ZenHR
ZenHR is HR software in the UAE that provides employee profiles, documents, and allowance management. You can use it to schedule work shifts, track time, and manage billing for contract employees.
It enhances time management across organizations and provides features to track time off. Further, ZenHR also allows businesses to manage loans, advances, and payroll.
Key features of ZenHR
Time tracking and scheduling
Management of employee attendance
Payroll, loans, and advance management
Document handling and allowances management

8. Dots HR
Dots HR is a popular HR software in UAE with payroll management capabilities and offers higher customizations. It provides a combination of interactive design and enhanced HR functionality for businesses.
You can manage all the HR activities through its dashboard without the hassle of complex processes and workflows.
Key features of Dots HR
Payroll approval features
Final settlement calculations
Time tracking and timesheet checking
Attendance and leave management
Performance evaluations
9. EasyHR
EasyHR is a cloud-based HRMS that comes with built-in features of payroll management. It simplifies attendance tracking, leave management, payment processing, asset management, and resolving claims.
You can use its mobile app with a self-service feature for employees to manage profiles and other aspects like leave or training.
Key features of EasyHR
Management of employee claims
Onboarding and exit management
Recruitment process automation
Training management
10. Paylite
Paylite's HR platform helps you manage employee information, attendance, and benefits. You can use it to streamline HR operations and track data on employee engagement. Using Paylite, you can evaluate employees' performances and fine-tune training accordingly for maximum productivity.
Key features of Paylite
Calculations for salary and performance reports
Exit calculations and final settlement
Real-time alerts on important employee data
Loan accounting and payroll integration

11. Humantiz
Humanitz is another HR software provider in the UAE. You can choose to manage human resources and reduce operational costs. It comes with a cloud-based platform that you can leverage to manage talent, costs, and payroll.
Key features of Humantiz
Leave management and attendance tracking
Shift scheduling and management
Employee accommodation management
Reimbursement management
12. SageHRMS
Sage HRMS is a cloud-based software that you can use for managing different human resource operations. It lets you automate HR workflows and saves time, reducing human errors. Due to cloud-based capabilities, managing key documents and employee data is easier.
Key features of SageHRMS
Automation of HR activities
Talent and payroll management
Benefits tracking and management
Employee engagement and behavior monitoring
13. ClearCompany
ClearCompany provides enhanced HR management solutions with its platform. It allows you to streamline talent management and integrate data-driven HR best practices. Further, it offers an applicant tracking system to manage hiring and have a smoother recruitment process. ClearCompany also provides a simplified and automated onboarding process for your organization.
Key features of ClearCompany
Features for video interviewing
Social sharing features
Hiring manager access
Reports on compliance violations

14. uKnowva HRMS
uKnowva HRMS provides a mobile-first approach for enterprise HR management in the UAE. You can use it to scale your HR processes and hire or terminate employees as needed. uKnowva HRMS simplifies talent acquisition and improves new hires' onboarding experience.
Key features of uKnowva HRMS
Employee information management
Leaves management
Attendance reporting
Automation of HR workflows
Probation management
15. GulfHR
GulfHR comes with features that boost productivity for your organization. You can leverage it to optimize HR operations and enhance employee capabilities for maximum production. Apart from the HR operations, you can also use it to manage engagement and onboarding of new talent.
Key features of GulfHR
Management of payroll and workforce
Training management of employees
Performance evaluations and ratings
Centralized data analytics dashboard

Conclusion
Finding the right HR software in the UAE is crucial for ensuring secure employee data and talent management. However, the benefits of choosing the right HRMS for the UAE go beyond talent management by automating HR operations, offering payroll management, and time tracking.
In this article, we have provided different options to choose the best HR system in UAE, offering capabilities of managing hiring, payrolls, and performance evaluations. Choosing the right software for your organization will depend on the specific needs of HR operations.