Table of Contents

Workforce management is a crucial and challenging task for an organisation. Since they are the major contributors to the productivity of the organisation, their performance should be monitored regularly. With technology to assist, we have several automated tools that make the task of performance management simple and streamlined.
There are a wide range of software providers with several unique features that monitor, track and efficiently manage the performance. With over 80% of employees welcoming immediate feedback rather than annual reviews, the role of performance management software is key. In this blog, we have listed 10 of the best performance management software for the banking sector to help your HR team in the process of managing your employees.

How to choose performance management software for the banking sector?
The following are some of the guidelines to be followed while choosing performance management software for banking sector:
Features
Research and analyse the various features available in the software to see if it is suitable for your organisational needs.
Budget
You should also consider your budget while looking for a good performance management system. There are several software available at varied price ranges. Some solutions with exceptional features may be beyond your budget. You should analyse whether you can accommodate the best by spending a little extra.
Reporting capabilities
The software you choose should have good reporting features to analyse performance. It should be able to present all information in a single dashboard.
Reviews
Always look for reviews online before you select software for your organisation. These reviews guide you in the right direction to buy the best product with excellent features.
Support from vendor
Support after sales is another important point you should consider while choosing a supplier. You may need assistance if there is any issue with the software so that it does not affect the continuous operation of your organisation.
User-friendly
The software you choose should be easy to use and navigate. There should be minimum dependence on the vendor during the regular course of use. This will help in hassle-free operations.

List of Best 10 Performance Management Software for the Banking Sector
Here is the list of 10 performance management software with many unique features for the banking sector:
1. factoHR
factoHR is an all-in-one platform that streamlines the performance of the employees through its performance management software for the banking sector. It helps align individual goals with that of the organisation. This comprehensive platform is interactive and focused on promoting a performance-driven culture.
It is highly flexible and integrated with other HR software for smooth functioning. It can be easily accessed through your mobile and gives the best performance across devices. Multiple review cycles are available that organisations can choose according to needs.
The dashboard provided by the software is highly intuitive, with valuable insights that help in taking informed decisions.
Features
Configurable review cycles to facilitate flexible and continuous reviews
Create and track goals with different parameters and align them to company goals
Visually appealing pre-built dashboard for a holistic view of entire performance management process
Multi-level reviews to define up to four levels of review workflow
360-degree feedback for multi-dimensional and unbiased feedback to improve employee performance
Seamless integration with other HR tools for smooth functioning of performance management
Holistic information on review cycles through MIS for objective performance evaluation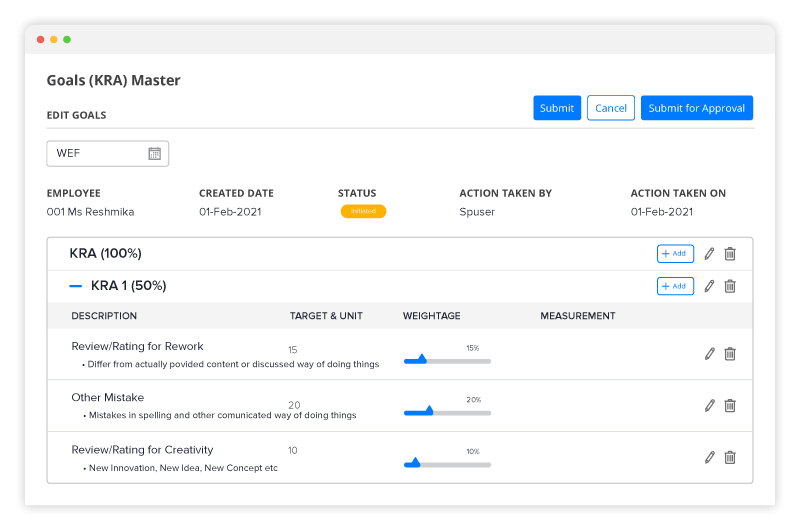 Benefits
Built-in integration with payroll and HR software for flexible review of performances
Mobile-driven solutions for easy access anytime
Continuous feedback promoting performance of employees
Alignment of organisational goals with employee's goal through effective assessment
What People Say About Us


2. Synergita
Synergita is a simple, futuristic, and powerful performance management solution. There is end-to-end automation in the tool that facilitates employee engagement and development. With its comprehensive goal management feature, setting and tracking of employee goals is a breeze. With the use of automation, Synergita simplifies performance reviews and makes the process of appraisal easy.
Features
Continuous feedback tagged to specific goals
Instant and fully automated performance review
Comprehensive performance evaluation through self and multi-level manager feedback
Insightful dashboards that are ready-to-use
Offers a variety of performance management status reports, summary reports for improving HR practices
AI-powered sentiment analysis to detect the tonal sentiment of feedback from employees and managers
3. ClearCompany
ClearCompany offers performance management software with an employee-first approach for banking. This time-saving software focuses on improving employee growth. The software provides 306-degree reviews, annual/semi-annual reviews, new hire reviews and goal-based reviews.
It enables better employee-manager collaboration and feedback. It has a wide suite of pre-built reports that facilitate the review process.
Features
Goal planning tools to stimulate employee engagement
Simplified review cycle management
Easy to customise review cycle workflows
More effective review cycles with complete automation
Facility to complete reviews on mobile phones and in the language of employee's choice
Facilitates informal coaching and problem-solving
4. OfficeNet
OfficeNet performance management solutions makes the journey toward your organisational goals easy through efficient management of employees. With complete automation, it is easy to track and monitor individual performance.
The software facilitates customisation as per your organisational requirements. The systematic report generation feature helps evaluate individual performances to align them with the goals of the business.
Features
Panoramic view of the performance processes through a comprehensive dashboard
Create hierarchical and multi-level goals for various departments
Facilitate 360-degree feedback
Auto-generated notifications to complete pending reviews
Customisable reviews for each employee

5. Samplex24
The performance management platform from Samplex24 enables effective and real-time collaboration between admin, managers, and executive level employees. Tracking performance reviews is easier with a high level of automation.
The software has been built with a specific focus on the goals of the business and aligning the same with the roles of employees. The software from Samplex24 is very friendly towards the employees and assists in retaining skilled talent.
Features
Quick analysis and report generation
3D dashboards that capture attention
User-defined parameters guide performance evaluation
Analyses capabilities to find unique talents
Real-time and timely feedback
6. Personio
Personio's performance appraisal software offers regular and transparent reviews to tap the unexplored potential of employees. It helps in setting up regular cycles for reviews to avoid any delays.
With a standardised appraisal form, the software allows fair reviews and thereby streamlines the process. A distinct feature of the software is that it tracks quantitative and qualitative goals.
Features
360-degree feedback to create a better impact on performance
Visual analytics to view distribution of ratings across teams
Performance review templates for maintaining a smooth process
Reminders to complete reviews in each cycle
Fair reviews across teams with consistent rating scales
7. Intelliob
Intelliob offers efficient performance management solutions to maximise the performance of employees. It helps the leaders to record, maintain and manage the internal development of the resources of the organisation.
Based on performance reviews, training needs can be identified by the management. This automated tool manages individual performance in detail and offers continuous appraisals.
Features
Training interventions through performance appraisal
Self-service portal for employees
Easy report generation process
Seamless integration of employees with the strategic initiatives of the organisation

8. Elite HRMS
Elite HRMS is one of the popular performance management solutions with a focus on improving employee productivity. It is suitable for small and medium-sized businesses. The platform offers comprehensive solutions for all HR operations.
The software offers regular updates and reliable customer support to keep your operations active. Decision-making is made easy with access to real-time data through centralised dashboards.
Features
Customisable and adjustable feedback questionnaires
Access to employees to fill out their objective sheets
Aligns individual capabilities with organisational goals
Supports multiple devices
9. Humi
Humi is one of the best performance management solutions that offer personalised reviews matched to goals. It provides a recurring cycle of reviews to keep the process active with actionable insights.
The review formats are easy-to-use and customisable. An interesting feature is that the platform offers anonymous surveys to protect the privacy of employees.
Features
Flexible reviews without predefined questions
Holistic overviews of employee's strengths
360-degree feedback throughout the year
Review scheduling facility with automated reminders
Goal setting with timelines for better tracking
10. EmployeeVibes
EmployeeVibes offers one of the most robust solutions for performance management to reward the best human resources. It facilitates easy form creation from scratch to suit each organisation's KPIs and objectives.
The platform also facilitates the creation of custom rating tables and makes the process transparent. It provides for continuous review cycles with constant reminders for notifications.
Features
Flexible feedback form configuration
Easy-to-use platform
Facilitates inclusion of multiple people in the appraisal process
The platform is integrated with position management to pull KRA's from job description
Uniform performance across all devices

Conclusion
On the whole, we can say that performance management software for the banking sector is of immense help to organisations in the periodic review and timely assessment of employee performance. We have provided you with the list of top 10 performance management software for banking that can help improve your productivity and streamline your employee's performance.
FAQs
1. What should you look for in an effective performance management tool?
The software you choose should be flexible, scalable, and easy-to-use. It should have excellent reporting features to help in decision-making.
2. Why should multinational banks choose performance management software?
Performance management system keeps track of the employee's performance and offers timely reviews. This helps in making sure that the employees' roles are aligned with the common objectives of the organisation. It facilitates the feedback mechanism.
3. What are the goals of a performance management system?
The main aim of the software is to have clear goal definitions and accelerate employee productivity through a continuous review system.