Recruiting Team Structure: Understanding What Are the Key Roles?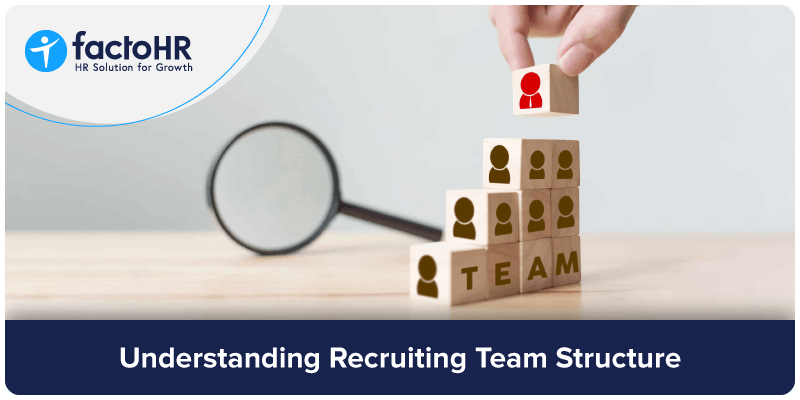 Table of Contents

Any recruitment team's ultimate aim is to bring top talent into the organisation. They understand that having the right person for a role makes all the difference for a high-performance organisation. So, organisations make sure that their recruitment team is a diverse team drawn together and is fully aligned with the organisation's goals.
There are Different Models Available to Structure a Recruitment Team
Generalist
In this model, the HR team consists of professionals who can handle a wide range of HR responsibilities. Generalists are expected to manage day-to-day HR operations being the first point of contact for employees along with being able to handle hiring, onboarding, training, and performance management as per the organisation's requirements.
Specialist
As the name suggests, in this model, HR professionals for different areas of focus are brought together as a team. Each of the specialists exclusively works on their area of expertise. As a team, they interact with other specialists and ensure they together deliver the full scope of the HR function.
Hybrid
It is not a bad idea to have a good mix of generalists and specialists to form this hybrid model. Generalists run the HR operations to deliver on employee engagement and relations. Specialists perform in specific areas like recruitment, training & development, performance management, or any function of HR that requires expert knowledge. This model aims to bring the best of both worlds from the pure models described above.
Centre of Excellence
For larger organisations, it is beneficial to have centres of excellence(CoE) for each of HR functions. Each CoE is a hybrid model with just one or two subject matter experts in the specific area leading a team of specialists for that area and generalists to help perform routine tasks involved in delivering the mandate of the CoE.
Shared Services
To take advantage of the economy of scale, larger organisations choose this model. When several departments in an organisation create their own HR teams, it may provide focused service to the specific department. However, that will also create situations where the capacity of the HR department is underutilised. Whereas a centralised shared services model can optimise HR team size to provide better service to the entire organisation with their cross-department knowledge.
Whichever model your HR department adopts, you will need to draw the talent from them to form a recruitment team.

Key Roles in an HR Recruitment Team
The recruitment team usually has the below roles with the described responsibilities so that they are an effective team:
Recruitment Manager
Irrespective of the title, the recruitment team needs a leader who can guide and oversee every aspect of recruitment in the organisation and manage the team. They are responsible for developing recruitment strategies and plans in consultation with the business leaders of various departments in the company. This helps them to be aligned with the organisation's goals. Being the head of the department, they should ensure compliance with local regulations and labour laws.
Recruitment Specialists
They are also called Talent Acquisition Specialists. They are responsible for understanding open positions, sourcing the resumes and recruiting the candidates. They ensure job postings are published on all relevant forums including social media and tapping into employee referrals. They screen the sourced resumes using a software tool, conducting telephonic or in-person interviews. They also help in coordinating the end-to-end hiring process.
Recruitment Coordinators
These are generalists who help with administrative work during the entire process of recruitment. They work with the specialists to schedule interviews for screened candidates and manage communication with them till the logical end of the recruitment process. They also pick up any other administrative work like posting the job descriptions on various job sites to managing the application tracking system to keeping the candidate records updated.
Employer Branding Specialist
A visible and identifiable brand makes recruiting top talent easier. The branding specialist is responsible for creating awareness and promoting the organisation as a brand to be employed with. They also work with the company's marketing department on the creation of marketing content and campaigns.
Diversity and Inclusion Specialist
Companies have recognised the benefit of having a diverse and inclusive workforce. The responsibility of the specialist is to work with all the departments to ensure underrepresented groups are hired and retained. They also monitor if the best practices put in place for this purpose are adhered to.
HR Business Partners
Every department or business unit gets associated with an HR business partner (HRBP). This HRBP works with the department head and hiring managers to ensure hiring requirements are understood and ensure they are fulfilled. They provide guidance on policies, regulations and practices throughout the recruitment process and help overcome any hurdles.
Recruiting Analyst
They make sense of recruitment data and propose informed suggestions for recruitment strategies and plans. The analysts also make recommendations based on key metrics such as time-to-hire and cost-per-hire for improving the recruitment process.
Hiring Manager
This role does not belong in the HR team. However, they are key to ensuring a successful recruitment process. They provide valuable contributions to the recruitment team such as providing job descriptions and interviewing candidates for technical & behavioural skills. They also help in onboarding new hires.

The Ideal Size of the Recruitment Team
It all depends on the size of the organisation, the demands on the team in terms of the number of vacancies to be filled and the urgency of the recruitment drive. Sometimes organisations pool in recruitment teams for a specific recruitment drive where a number of roles need to be urgently filled to ensure that the organisation is enabled to complete committed projects. It is also possible that companies hire external agencies to conduct such drives from time to time on a turnkey basis.
This report from LinkedIn Talent Solutions provides data on the average team size for in-house recruitment teams in different industries, based on a survey of 600 talent acquisition professionals. The report shows that the average team size ranges from 1-5 recruiters for small organisations to 20-50 recruiters for large organisations.
But, how do you continuously improve the recruitment process or understand if the team size is right if you are not aware of their performance visa via their goals? That brings us to identifying and using key metrics to measure success and identify areas of improvement.
Key Metrics to Measure Recruitment Success
Recruitment is a crucial aspect of any organisation's growth and success, and measuring the success of recruitment efforts is essential to optimise the hiring process and ensure that the organisation is attracting and retaining the best talent. Using these metrics is part of the overall HR effectiveness measurement to gauge and course correct HR processes. Here are some key metrics to measure recruitment success:
Time-to-fill
Time taken, in the number of days, to fill a role since the job is posted helps in understanding how efficient the recruitment process is.
Cost-per-hire
One of the key metrics that is of interest to many companies is measuring how much it costs for each successful hire which in turn determines how cost-effective the recruitment process is. This cannot be calculated per individual and is only an average cost derived by dividing the total cost of recruitment by the total number of new hires.
Quality-of-hire
This metric is to determine how many new hires are the right fit for the job role. This can only be understood over a period of time after the new hires spend time on their role by measuring their performance metrics.
Applicant Source
The recruitment team may find that more applications are received from a set of job boards or channels. These are the sources that should be pursued for future requirements too. Another variant of the metric is to measure the percentage of successful hires from each source.
Retention Rate
The percentage of new hires who stay with the organisation for more than a specific period, say one year, is treated as retention rate. This is a key metric that needs to be analysed to see where the effort should be spent – getting the right candidates in the first place or employee retention strategy.
Diversity and Inclusion Metrics
As organisations understand the benefits of having a diverse employee base, there is a newfound focus on these metrics. It measures the organisation's ability in hiring and retaining underrepresented groups.
Like any process measurement, no metric indicates the true picture of the process in its entirety. It is important to read them in conjunction with other metrics. For example, "time to fill" and "cost" metrics may look promising but may not mean the quality of hire is not compromised.

Conclusion
A diverse HR recruitment team with well-defined roles and responsibilities can be very effective in fulfilling an organisation's recruitment needs. The size of such a team depends on the organisation's size and structure and varies accordingly.