5 Best Payroll Software to Simplify Salary Processes – 2022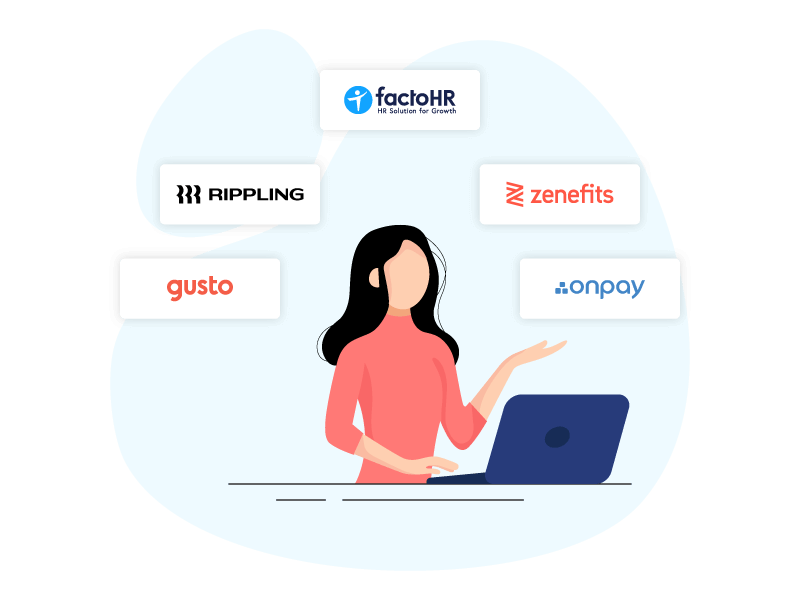 In this article we will discuss 5 best payroll software available in india with its features, pros, cons and compare each side by side. Payroll is a process of managing the employees' monthly paychecks, tax deductions, reimbursements, allowances, and bonuses. Employees have to be remunerated for their contribution; therefore, payroll is one of the core processes to be conducted for any organization. Unfortunately, we have come across many examples where companies lose their revenues due to inefficiencies in the process. It might seem simple at first, but it becomes more complex when various components come into play. Payroll is a crucial task, and inaccuracy and errors in the calculation can lead to a massive loss for the company.
Businesses are leveraging technological advancement and overcoming the challenge of inaccuracy in various business processes. And payroll software is one such automation that keeps the salary processes accurate and error-free. If you are willing to automate your salary process and looking for the software that right fits your organization, this article is for you. Read until the end of the article to find out the benefits of automated salary process and a list of the 5 best payroll software you can choose from.
Benefits of an Automated Payroll
Elimination of errors
Manually handling different accounts and calculating the salaries of numerous employees can be error-prone. But, replacing the traditional methods with modern software will assure the accuracy of the process and make it error-free. The software is capable of handling all the calculations, deductions, taxation, and any other monetary policies of the company effortlessly, irrespective of the employee size.
Security
Another big concern of business owners is to keep the critical data of payroll secured. Spreadsheets and documentation based on paperwork are not safe places to store your essentials. You can protect organizations' critical data and employees' information by storing them in cloud-based data centers and safeguarding them with encryption.
Simplified Taxations
Handling and calculating the tax deductions of all employees as per their salary structure is a complex process when carried on manually. The process can get simplified with the implementation of software where the employees themselves can make all the prerequisites. Managers just have to enter the required data, and before making the final salary calculations, the software will automatically make the tax calculations. Once you automate payroll, you can also automate statutory compliances of your company.
Increased Productivity And Transparency
Businesses spend nearly 80 hours each year on salary processing, and some of them might even take additional time. With software, the various HR activities can be automated, which saves time for HR managers. The payroll process becomes faster and helps managers to focus on other activities that can enhance the company culture and employee engagement. The transparency in the organization also increases as the employees have easy access to all the details for any sort of verification.
Best Payroll Software in 2022
factoHR

factoHR is a cloud-based payroll software crafted for effortless salary calculations. It takes over the unvarying calculations and makes your operational tasks more manageable. Also, its UI is user-friendly and can be implemented in a quick and straightforward way. The dragged-out calculations and operations come to an end just by a click. Compared to the traditional methods that took days for calculations, now, within hours, the results are in your hand with almost no human effort.
factoHR's payroll module is linked with the employees' performance, making it easier for the manager to evaluate the KPIs and pay accordingly. In addition, the loan management of the employees is also integrated with the employee's profile which makes the deduction automatic and super simple.
Highlighted Features:
Advance Mobile Application
Pre-built reports and analytics
All statutory compliance
Bank integrations & Loans
Performance linked with payroll
Generating and sharing of payslips
Pros:
Multilingual payslips
Free trials available
User-friendly and scalable
Supported by a Mobile app
Cons:
Not suitable for small businesses
Need prior knowledge of payroll handling
Gusto

Gusto is an software that makes salary management easier. It can be set on autopilot, and the employees' salary can be processed in a few clicks. The software handles the direct deposit of the employees' paychecks. In addition, it has automated compliances that keep the salary processes lawful.
The comp-offs of the employees can be done online and provides impeccable customer service. Gusto eases the process by interlinking all the payroll compliances and the various components. It is a very easy-to-use platform, and it pushes your business forward. Moreover, the employee time tracking is also synced, which improves the employees' productivity during working hours.
Highlighted Features:
Unlimited payroll runs
State and federal tax filings
Time tracking synced with payroll
Direct Deposits
Automatic taxes
Pros:
No limit for payroll runs
PTO tracking is easier
Basic reports for each and every employee
Cons:
Deposits available on priced plans
Dedicated customer supports for premium plans only
Rippling

Rippling is a leading software that enables payroll processing through a single platform. Although it is an additional option in this software, it has been well crafted. Using this software, you can pay the employees around the globe and integrate it with the accounting and attendance details of the employees.
Rippling effectively calculates the PTO of the employees so that you don't have to make the deductions manually. In addition, you can easily visualize and share the reports of the employees, which makes it easier for all departments to be well-informed about futuristic plans and goals. You can also sync the payroll with other accounting software such as Quickbooks, Netsuite, T-sheets, etc.
Highlighted Features:
Federal, state, and local tax filing
Direct deposits
Easy new hire filing
Compensations
Supports multiple pay rates
Pros:
Affordable for small businesses
Pay employees from anywhere
Integrations with other apps
Cons:
Less Flexibility
Complex working
Zenefits

Zenefits is an easy-to-use and integrated software. The software is even suitable for large enterprises as it can handle and solve complex salary processes. It also syncs with other modules like HR, time, and attendance to ensure that the employees are paid rightly. With the calculations of payroll, managers can even file taxes through Zenefits payroll.
It offers integration with accounting platforms that companies are already using, for example, Zero or Quickbooks. Managers can set multiple pay structures for different employees and can update the salary structures easily. In addition, the system gives automatic reminders for new payments and important tasks.
Highlighted Features:
Bulk earnings upload
Direct deposits and deductions
Automatic tax filing
Summary and reports
Time off sync
Pros:
Automated administrative tasks
Dynamic paystubs
Competent for larger organizations
Cons:
Costly for small organizations
It does not provide live online training
Onpay

Onpay is a cloud-based intuitive software ideal for small businesses. It calculates your salary and files the state and federal taxes. In addition, it's easier to implement and execute. Onpay also offers the option to transfer from other payroll services to its database.
It is an easy-to-execute software that enables the easy filing of taxes and increases the efficiency of all related activities. They are also rated as the 'Top Payroll Service' by Forbes 2022.
Highlighted Features:
Payroll services
PTO calculation
Integrations
Easy health benefits calculator
Pros:
Easy to use
No extra costs
Transferrable from other payroll software
Cons:
Automatic payroll submission is not available
Free trial not enabled
To sum up
The payroll process plays a significant role in any organization, and therefore it needs to be accurate. However, manual calculations can be error-prone, and thus, automating the process will make the process fast and accurate. As a result, efficiency and productivity levels increase. If you are looking for an automated solution, try factoHR's free payroll software trial and bring upliftment to the overall business.